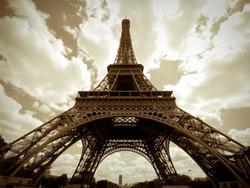 Rybnik, Poland (PRWEB) September 17, 2009 -
The editors of Open Travel have compiled a list of Top 25 Tourist Attractions in France based on the preferences and opinions posted by users of various social media sites, such as Twitter and Facebook, as well as reviews by the most popular travel sites and votes by Open Travel users.
The list of top 25 things to do in France is a compilation of attractions falling into different categories, and therefore, they should not be compared in terms of any dominant value. Attention has been paid to including both symbolic content and destinations that would in a most spectacular way reflect the country's staggering diversity: from the riches of Paris (obviously dominating the list) to the balmy St. Tropez beaches and the snow-capped Mont Blanc.
The entire list consists of 2402 places to see or things to do in France. While working on the ranking, the editors examined 30.000 opinions by Twitter users, 50.000 messages from Facebook, and around 500.000 votes cast on popular travel sites. Popularity and average rating were the dominant factors taken into consideration but it was the editors who had the final say.
We believe the list will unveil the charm of France to the undecided, help first-time visitors plan the perfect itinerary, and convince the veterans of France vacations that there is always something they have not yet seen in this enchanting land of history, wine and romance.
About OpenTravel.com
Open Travel is a travel photo sharing, blogging and travel guide site, created for people who travel and need an ultimate place to share their trips. The company helps people to plan their trips, communicate with other travelers and keep their travel memories in a well thought out, impressive way. The website is supported by the European Union as an innovative enterprise oriented on whoever feels themselves a voyager. Visit us at http://opentravel.com
Media Contact:
Witold Stawarz
InnovaWeb Sp. z o.o.
contact at opentravel dot com
####