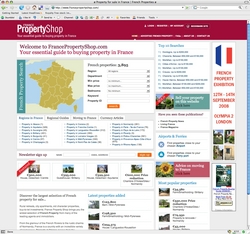 We receive the most enquiries from this portal over others that we advertise on
Cheltenham, GL (PRWEB) July 18, 2008
Launching yet another new site into the sector that many already considered to be overcrowded and highly competitive was not without its risks, especially at a time when the market was not exactly flourishing. However, it soon became clear to all that this was no ordinary property site.
The site was created by Archant Life who partnered with award-winning online marketing specialists Further, with the key mission to provide agents and private sellers with the most advanced portal in the sector, offering so many user and agent benefits.
But as anyone with an online presence well knows, the secret to success online goes far beyond just having a first rate site. If it isn't bringing traffic, then the whole exercise is futile. Part of France Property Shop's success has been down to its marketing, not only through Archant's best-selling publications Living France, French Property News and France Magazine and their associated websites, but a concerted search marketing campaign which has seen the new site reach top positions for the core French property search terms - helping to attract many thousands of new visitors each month.
France Property Shop got off to a flying start by recording over 1m page impressions in its first month live. Today it is receiving an average of 34,000 visitors each month, who spend an average of 11 minutes viewing more than 18 pages a session.
With statistics like these it is no big surprise to hear that France Property Shop has become a real hit with agents, many of whom have been impressed with the site itself and their opportunity to display their property for sale in France to best effect. This has, in turn, been reflected in the number of quality enquiries and sales delivered from the site.
The number of agents on France Property Shop has continued to grow at a rate of 30% month on month since launch; and the site now boasts more than 3,800 properties for sale from some 92 agents, all of whom can upload directly to the site on a daily basis either manually or through a feed.
The easy upload facility has also made it easier for private sellers to get on board, as they see the value in advertising their own property on this market-leading portal. There are currently 1200 private sellers on the site.
Sebastian Estates International have been using France Property Shop to advertise their properties on since they launched their own site. It has proved to be the best portal for introducing new applicants in their search for property in France.  "We receive the most enquiries from this portal over others that we advertise on," comments Janie Lapwood of Sebastian Estates.  "The assistance and service provided for by the website administration team has been excellent and we would highly recommend the site to both advertisers and buyers."
 
Regional MD at Archant Life France meanwhile believes France Property Shop has made a big difference since its inception. He said "This just goes to show what can happen when you set out to be the best from day one. We listened to agents, we listened to advertisers, we talked to users - and, through our partnership with Further, were able to give them the portal they were asking for. Hopefully the results are starting to speak for themselves."
You can visit the site at http://www.francepropertyshop.com.
If you are interested in advertising on France Property Shop, please call Debbie Macleod on 01242 216087.
###