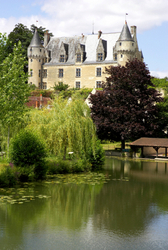 "Thank you for a great time again! We enjoyed coming back for another one of your small group trips." Charles and Susan Kollar, Princeton, New Jersey (Have been on 2 Off the Beaten Path Tours)
Seven Valleys, PA (PRWEB) March 25, 2010
Come travel the back roads of France's Loire Valley with Off the Beaten Path to discover the spectacular history of Loire Valley castles and to experience Touraine culinary traditions. This 6 day/5 night, personalized, small group tour features fun and fact filled guided tours of Loire Valley castles of Chambord, Chenonceau, Cheverny, Blois, Amboise, Villandry and Azay-le-Rideau. Learn about French traditions, culture and Loire Valley cuisine during private, hands-on cooking classes and demonstrations with culinary friends; award winning, celebrity Master and Michelin Star Chefs. Indulge in tasting local Touraine wines from Chinon, Bourgeuil, Sancerre to name a few, and savoring artisan cheeses throughout the trip. To top off this cultural and gourmet extravaganza, float over the Loire Valley castles and countryside during a sunset hot air ballooning excursion! Plus at the end of each day, sleep like a king in a second empire castle (chateau).
Who are Off the Beaten Path Loire Valley Tours designed for?
No experience necessary...Off the Beaten Path Loire Valley Tours are designed for travelers interested in a small group tour that includes a variety of engaging activities (cooking classes, castle tours, wine and cheese tasting, hot air ballooning), leisure time, professional and knowledgeable tour guides, luxurious accommodations and sumptuous meals. It's vacation and our tours are all about having fun, enjoying new experiences and being active!
The Details & 2010 Tour Dates:
Loire Valley Tours - 6 Days/5 Nights:

Tour Price - US$3,398 per person land only, double/twin occupancy
Solo travelers add single supplement: US$398
Featured "Best Active, Cultural Tour of the Loire Valley" by Travel & Leisure and "50 Tours of a Lifetime" by National Geographic Traveler
Our Loire itinerary activities and restaurants are also featured on the "Editor's Pick" list by Conde Nast Traveler
Below are the Tour Dates that still have a few spaces left available. All other dates already sold out.

June 25-30 - 4 Spaces available
July 9-14 - 2 Spaces available
September 10-15 - 1 Space available
October 13-18 - 4 Spaces Available
December 15-20 - 4 Spaces available
Review the entire 2010 Tour Schedule
About Off the Beaten Path, LLC:
Unrivaled expertise within France set Off the Beaten Path, LLC (OTBP) a part from non-France based and multi-destination tour companies. Off the Beaten Path, LLC is American owned and operated. And for over 15 years, the company has been offering engaging trips in France that offer the best and most inspiring itineraries throughout the French countryside. France is OTBP's sole focus and our specialty! Travelers and publications alike rate Off the Beaten Path Tours the BEST active, small group tours in France. Whether you're a seasoned small group tour traveler or new to the small group tour scene, Off the Beaten Path tours offer fun and enriching local French experiences and activities for everyone, experiences and activities that are not available to the public or other tour companies. Read More about Off the Beaten Path, LLC.
Download our Loire Valley Tour Brochure (Adobe PDF)
###