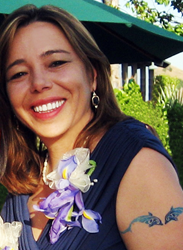 Teach us love, teach us peace, teach us patience, and teach us dreams. Teach us something that is real, teach us something we can feel.
(PRWEB) October 17, 2014
Francesca Avincola has been writing poetry since she was ten years old. She had her first poem published in the elementary school newspaper, and has always loved sharing her talent. Now she has put together her new book, In Touch, so that her work may connect others to art. The book, a compilation of poems and photographs, is meant to inspire those who have a passion for art but no way to express it.
Avincola has been an avid writer for the past twenty years. In addition to her poetry, she studied journalism, and spent five years working as a journalist. In Touch is her first book; in it, she depicts both life and the world we live in with all of their beauty and flaws. Avincola hopes that this book can act as a voice for all those who are unable to share the art that flows inside them.
In Touch travels through life's unpredictable paths and the many contradictions we as humans experience. Whether it's the contrast between strength and weakness, love and hate, ignorance and knowledge, or belief and denial, these contradictions will feel familiar to readers. An undeniably inspirational journey, Avincola's book illustrates how the strength of our emotions and convictions dictate the direction we take and, ultimately, who we become.
Through images and rhymes, In Touch challenges convention. Avincola boldly questions the traditional, while offering hope and laughter in the midst of heartbreak. She gives comfort to those experiencing loss, and shares joy with those who have been captivated by the beauty of life. Avincola is currently working on her second book, which will be a murder/comedy. Though it will be very different from In Touch, both projects showcase the author's undeniable talent for navigating the contradictions of life.
Francesca Avincola
Francesca Avincola is the former West Coast Bureau Chief of the Entertainment Magazine, Screen International, and is currently an executive for CyberNet Communications. A love for the written word has always inspired her, and a passion for poetry has helped her overcome some of life's most challenging obstacles.