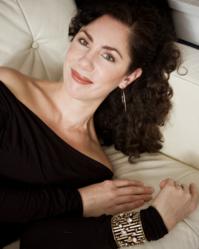 "Frances Livings is a wonderful singer" - The Entertainment Bank
Los Angeles, CA (PRWEB) May 13, 2013
Frances Livings releases "The World I Am Livings In"
(Moontraxx Records)
Following six previously released singles and EPs since 2009, British born singer songwriter, Frances Livings releases her first solo full-length album entitled "The World I Am Livings In." Livings' past work experience at music theaters, mingled with the circumstance of having to adapt to new countries, along with experience in the field of experimentation and electronica, has impacted her style as a writer and performer. With a voice like Sade and a writing style like Imogen Heap, Livings' influences are predominantly poets and writers from Shakespeare to Anne Sexton, and songwriters from Stevie Wonder to Carole King. Prior releases, some as guest singer and writer, include Livings' EP During the Hours, a collection of her own poetry recorded with some of Los Angeles' finest jazz musicians, each piece resulting in a soulful dialogue between the artist's narrative and the musician's improvisational talents. Her current release, The World I Am Livings In, stays true to the record label's motto: "a popular approach to intelligent music!"
Each song on "The World I Am Livings In" possesses its own unique sonic qualities; some are spiked with elevating, almost classical string arrangements, while others move in interesting grooves, using a Rhodes or an electric guitar in the style of European nu-jazz. These songs will pull at your heart strings. Never hiding vulnerability, like the soft colors and natural elements of the cover design suggest, the timbre of this album is both melancholy and strength. The core of the music is an intimate trio, consisting of voice, piano and bass. Its pleasant simplicity urges the listener to focus on the lyrics and notes rather than becoming overwhelmed and blinded by production effects. Livings delivers stories, which she feels is the most effective way for the human brain to take on an experience. "The World I Am Livings In" plays like a book of twelve musical short stories brimming with strong lyrics, interesting chords, and memorable melodies. Livings' soulful contralto voice captures the melancholy of her poetic lyrics, which play like a book of twelve musical short stories.
Although Frances Livings' style can best be described as folk/singer-songwriter, she has always gravitated towards working with jazz musicians and this album is no exception. "The World I Am Livings In" was recorded with some of Los Angeles' most accomplished jazz musicians and produced by Greg Porée (Joan Baez, Stevie Wonder, Dusty Springfield, Stanley Turrentine, Herbie Hancock).
You can learn more about Frances Livings at http://www.franceslivings.com
If you have any questions, comments or would like to set up an interview please contact Melissa Zeigler: melissa(at)powderfingerpromo(dot)com
Powderfinger Promotions Independent Radio Promotion and Publicity - Since being founded in October 1994, Powderfinger has come to be regarded as a top indie radio promoter and publicity firm with ties across North America.