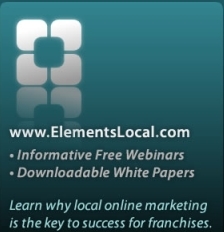 Our Online Marketing course comes right at a time when many franchise systems are losing local visibility in the search engines due to 'local search' being more prominent than national brand search
San Luis Obispo, CA (Vocus) July 13, 2010
ElementsLocal™ announces its' Certified Franchise Executive (CFE) accredited course on the subject of Online Marketing, a guide to best practices in local search, search engine optimization, email campaigns, and social media marketing. A 20 minute live webinar will be held Thursday August 5th at 10am PST to introduce the course. The webinar series starts August 11th with Local Search, then on August 18th is on Email and Social Media, followed by developing an Integrated Approach on August 25th. Sign up at http://elementslocal.com/cfe.
The webinar series identifies the key steps Franchise Internet Marketers should take to achieve top local searches in Google, Yahoo and Bing as well as how to leverage email campaigns and social media marketing for best results.
This course is open to anyone interested in how to market multi-unit and franchise businesses online (150 credits available to those seeking their CFE certificates). The first webinar is free, but seats are limited, so sign up for your seat at http://elementslocal.com/cfe.
"Our Online Marketing course comes right at a time when many franchise systems are losing local visibility in the search engines due to 'local search' being more prominent than national brand search," says Jeremy LaDuque, President & CEO of ElementsLocal™. "Our course is designed to help Franchise Marketers quickly gain competence with the digital marketing techniques that are critical to business success today. " The series offers tips and tricks to practical cost-effective techniques that fit the unique needs of a franchise system.
"National franchise businesses have a natural advantage when vying for visibility and business in the communities they service, but increasingly franchisees don't optimize their websites to be local enough and are not claiming their Google Maps listings. As a result, their websites are becoming less visible as local mom and pop businesses entrench their own local web presence," continues LaDuque.
Local search results - which is a business listing result presented according to the proximity and relevance of the consumers web search - are displayed differently in Google Maps, Yahoo Local and Bing Local. ElementsLocals' research has shown that, no matter what the search engine, local franchisees are often poorly represented in top local search results. "The silver lining is that getting local listings is easier for franchise systems because they have power in numbers," says ElementsLocals' Laduque. "But the window of opportunity will eventually close. Those franchise systems who entrench themselves in local search now will solidify their competitive advantage for years to come."
About ElementsLocal™
ElementsLocal™ provides online marketing solutions to franchise companies looking to leverage local franchise websites, email campaigns and social media marketing. The ElementsLocal™ platform can be seen at http://www.elementslocal.com which includes a virtual tour of the franchise solution software. Based in San Luis Obispo, CA, and founded in 1999, Elements clients include Glass Doctor, Sport Clips, Paul Davis Restoration and Jiffy Lube.
To sign up for Online Marketing Best Practices course go to http://elementslocal.com/cfe.
###