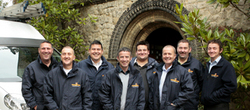 (PRWeb UK) June 4, 2010
Signs Express continues to expand
Having now reached the back end of the recession, Signs Express continues to push past the economic hurdles achieving an increase in turnover; new franchisees joining the network and individual centre growth.
Currently seeking additional franchisees to join group, Signs Express will be exhibiting at the British Franchise Exhibition taking place at Manchester's G-Mex exhibition centre on 11th & 12th June.
As the UK's largest sign company, Signs Express saw several new franchisees join last year and also witnessed group turnover reach its highest in the past three years; as well as existing franchisees celebrating their own milestones.
A number of longstanding centre owners have exceeded £5m invoiced sales, including local father and son team Geoff and Lee Eaton who have operated Signs Express (South Manchester) since 1997. Based on Trafford Park, the centre has received numerous awards for its specialist sign making skills and customer service, and due to demand now has a team of 12 serving the South Manchester area including Trafford Park, Sale and Salford.
Growth within the network has also been a talking point, with individual franchise turnover on the increase and a number of established centres turning over £1m a year. As work load increases some centre owners have also moved to new premises to expand their capacity to meet demand; this has included a number of franchisees opting to purchase their own industrial units as an extra revenue stream for future financial planning. Signs Express (Warrington), along with another eight centres which have recently expanded by moving to new premises, is the latest addition to out grow its unit and move to much larger premises.
Sales and marketing director Tony Marsh commented on the past three years: "It has been tough for a number of businesses but we have been one of the lucky ones. Being part of a stable market sector has been a huge benefit; after all every business will need signs at some point or another. But it's our approach and support package along with the quality of franchisees which has seen us through the tougher times. By applying strategic marketing and sales plans along with a leaner business approach through addressing every day running and staffing costs, franchisees have been able to cut costs and increase their revenue stream."
Exhibiting at this year's British Franchise Exhibition on 11th & 12th June at Manchester Central, the Signs Express franchise team will be available on stand R60 to answer questions on the Signs Express franchise model. For further information please visit http://www.signsexpress.co.uk/franchise or call 0800 731 2255 to book your appointment.
Notes for editors:
1) For further press information, please contact Sarah Critoph at Signs Express. Tel: 01603 625925
2) Signs Express is a full member of the British Franchise Association, British Sign and Graphic Association and the International Sign Association.
###