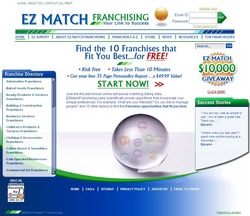 We selected Axxiem to develop our online application because we were looking for a firm that was not only a
Hastings on Hudson, NY (PRWEB) October 13, 2008
AxxiemWebSolutions launched EZmatchfranchising.com this past week. AxxiemWebSolutions is a leading website design and development firm which specializes in work with the franchise industry.
"Our site does for franchising what eHarmony.com and other dating sites have done for couples," says Chris Delaney, CFO of EZMatchfranchising.com, explaining that, "we are the only website that provides a behavioral assessment questionnaire specifically designed to help some 20 million adults annually who seek to find a franchise."
EZMatchfranchising.com allows potential franchisees to open a free account and complete a series of preference and personality questions including areas such as their personal habits, work, and life style income and long term financial objectives. When finished taking the 15 minute survey, ezmatchfranchising.com responds with a list of up to 10 franchises that meet the criteria the user specified in the survey. The user can then click through to look at a longer one-page description of each franchise.
"We are extremely happy with the site and with Axxiem's ability to understand the franchise industry and our business model," added Delaney. "We selected Axxiem to develop our online application because we were looking for a firm that was not only a "design/coding company" but also one who could consult with us on a business level as well as on a technical level. We got just that with Axxiem and they will continue as our "business partner and technical team" as we go forward."
The EZMatchfranchising.com site has already earned rave reviews in the industry and is drawing new franchise seekers to its unique survey engine daily. "Franchise companies are recognizing how much the web can do to manage and grow their businesses. That is a big focus for us at Axxiem," said Susan MH Lewenz, Axxiem's President and CEO.
Visitors are welcome to the site and can take the survey for free at http://www.ezmatchfranchising.com.
See also:
About AxxiemWebSolutions
Based in Westchester, NY, Axxiem boasts a powerful team of internet business consultants, innovative designers, content writers, SEO specialists, project managers and programmers. Axxiem's 120 design, programming and build teams are located in New York, Florida, California and New Delhi, India. Axxiem has been the recipient of numerous design awards for its online work.
About EZMatchFranchising
###