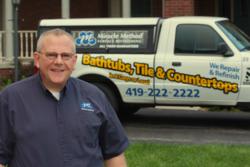 We don't sell jobs at Miracle Method, we sell the opportunity to own and manage a successful business.
Colorado Springs, CO (PRWEB) December 05, 2012
Miracle Method Surface Refinishing is in the business of transforming ugly bathrooms and kitchens into beautiful ones. As the nation's leading refinishing organization with over 125 franchises, Miracle Method also offers unique business opportunities for those ready to run their own business.
Miracle Method has developed a management model to attract potential franchisees that is ideal for entrepreneurs that have what it takes to run a business, but may not have all the management skills and experience to be successful. The model is based on solid business practices, along with on-going technical, administrative, marketing and sales support. Buying a franchise allows one to buy a proven business, not just have a job. "We don't sell jobs at Miracle Method, we sell the opportunity to own and manage a successful business," says John Tubiolo, VP of Sales and Development. "We train our new franchisees to not only understand the details of surface refinishing, but how to hire, manage, sell and grow their Miracle Method business. The model is based on the best practices of our most successful offices."
Miracle Method's management model has proven itself in both good and bad economies. The Colorado Springs based franchise has experienced record sales over the last three years, solidifying the company's position as not only the nation's largest surface refinishing franchise network, but also the fastest growing.
Franchisees who have diligently followed the Miracle Method model have experienced faster growth, better sales and exceeded expectations. The model encourages owners to take technicians to training, open a showroom, wrap their trucks, use professionally designed advertising , attend sales training, use online accounting & CRM programs, hire office staff and make sales calls. "You can't build a business by yourself. You need a combination of entrepreneurial spirit, ambition and our proven systems and support to produce strong results and the potential to generate a six-figure income," says Tubiolo.
Today the company has 127 offices across the country providing bathtub, tile and countertop refinishing for homeowners, hotels, property managers, hospitals and colleges and universities. To learn more about Miracle Method and its franchise opportunity, visit http://www.miraclemethod.com/franchise, or call 1 800-444-8827 and ask for John Tubiolo. Miracle Method was ranked by Franchise Business review for Franchisee Satisfaction, http://franchisebusinessreview.com/content/FBR-Top-Franchises-2012.pdf, and is ranked #226 in Entrepreneur Magazine's list of the Top 500 Franchises.