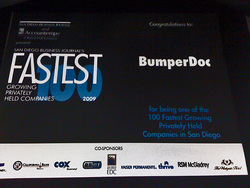 100 Fastest Growing Private Companies in San Diego.
San Diego, CA (PRWEB) September 28, 2009
BumperDoc, Inc., an automotive appearance and body repair specialist company, today was named 67th on the prestigious list of "100 Fastest Growing Private Companies in San Diego." The list is compiled annually by the San Diego Business Journal. The list entails a growth rate for companies over a three-year period. BumperDoc joins an elite group of companies throughout San Diego County.
With a revenue growth of 39.1 percent over the past three years, BumperDoc is the only company on the "100 Fastest Growing Private Companies" that specializes in auto appearance and body repair services.
"Being included on this prestigious list is a tremendous honor; it is vital to our community that small businesses can succeed no matter the condition of our current economy," said Triston Miller, CEO of BumperDoc, Inc. "This is a landmark and tremendous honor for our company, but we believe this is only the inception of our growth strategy. We want to be an innovator in the automotive sector," he added.
The results of their ranking were made public on Thursday, September 17, 2009 when the company was introduced during the San Diego Business Journals "100 Fastest Growing Private Companies" event and reception at the Westgate Hotel located in downtown San Diego. The event also included the mayor of San Diego, Jerry Saunders, who spoke in front of executives and management personnel, congratulating them on this phenomenal achievement.
BumperDoc started as just a mobile van in 2001. In 2004, BumperDoc transitioned into a storefront facility. Due to its rapid growth, BumperDoc moved into a much larger facility in 2006, and in 2008, opened its first franchise in North County San Diego.
Unlike traditional auto body repair shops, which focus only on collision repair, BumperDoc not only offers traditional collision repair, but also a wide variety of automotive appearance services. Their distinctive "one-stop shop" model chooses to recondition (repair) versus replacing parts by all means necessary, which enables customers to save time and money. BumperDoc offers customers 7 other services for their auto appearance needs.
About BumperDoc
Based in San Diego, BumperDoc is an automotive appearance and body repair specialist company. As an independent, private company, BumperDoc is founded on the principle to improve the appearance and value of vehicles, saving customers time and money with our comprehensive range of automotive appearance services. Our experienced team is dedicated in providing the highest-quality services at honest prices, giving careful attention to every customer and every vehicle. BumperDoc's services focus on bumper repair, paintless dent removal, and rapid auto body repair. The company also offers additional services for customer convenience including full collision repair, auto detailing, window tinting, and other appearance services. BumperDoc is offering franchise opportunities nationwide. For information, visit BumperDoc Franchises or contact us @ 1-866-428-7969. For more information about the business model, visit the retail site at BumperDoc.
About San Diego Business Journal
The San Diego Business Journal is an award-winning newspaper that examines the many ways that the San Diego economy operates each week. Together with the economic news, demographics and lifestyle profiles, the San Diego Business Journal is presented in an accessible format. First-rate editorial and research teams provide in-depth analysis of the community's ever-changing business and economic scene. For information about the San Diego Business Journal, visit , or call 1-858-277-6359.
Local Auto Body Site
# # #