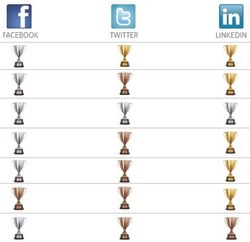 Countless discussions are happening all the time about your franchise, both good and bad, on social media networks – you can take part in the conversations to positively influence branding and engage your target audience, or stand by and do nothing.
San Francisco, CA (PRWEB) February 28, 2010
Top Fortune 500 companies and the business world at large have overwhelmingly recognized social media as a powerful brand strengthening tool and an expansive outlet for business communications; however, franchisors have been slow to take advantage of the social web. Building towards its upcoming launch of Empowerkit - a web-based platform for franchisees to manage their web presence within the franchisor's brand control - Freshout has released a white paper entitled "How the Top 10 Service Franchises Leverage Social Media". The report profiles and ranks each franchise to show their activity in the top social media networks, how franchisee adoption has fared, and concludes with an overall assessment with actionable best practice tips for franchisors to start seeing results.
Some problematic findings were exposed in the report:

Only 4 of the 10 franchisors have an active Twitter profile
On average less than 9% of franchisees have a Facebook fan page
Of the 6 franchisors with YouTube channels, 3 had less than 20 subscribers and under 700 views
The report concludes that while many franchisors have begun to establish a social media presence, the majority face two clear challenges. The first is developing a social media strategy that is aligned with business objectives, and integrates with existing marketing efforts.
The second key dilemma is franchisee adoption of a franchisor's social media program. As Chris Anderson, author of the report, points out, "There is a significant lack of brand and messaging continuity among franchisees that have started to embrace the social web and make their voices heard. The negative implications of this type of broad discord among the collective presence of franchisees are brand dilution, muddled search findings, and inconsistencies in how customer communications are handled, to name a few."
The report outlines five recommendations for franchisors to proactively address these challenges:
1. Developing a Strategy
2. Determining Where, When & How to be Active in Social Media
3. Selecting Tools for Management, Analytics Tracking and Brand Monitoring
4. Creating a Social Media Policy and Training Program
5. Ensuring Franchisee Adoption
You can download the white paper at Empowerkit.com, and for questions, speaking engagements, or interview opportunities please contact Chris Anderson: chris(at)freshout(dot)us or by phone at (415) 738-0594.
###