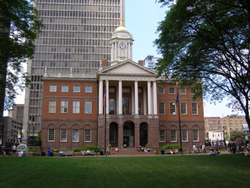 History is All Around Us
Hartford, CT (Vocus) August 19, 2009
On Saturday August 29th, visitors are invited to join the cause with Connecticut's early Suffragette Frances Ellen Burr. Burr fought hard for the right to vote during the 1800s, even bringing a petition to the legislators at Connecticut's Old State House in 1867. There will be a living history performance featuring Burr as well as hands-on history activities like creating a protest sign or election button.
The living history performance will reveal how people weighed the pros and cons of women's suffrage during the 19th Century and will take place in the House Chamber at the museum. The 30-minute program begins at 1 p.m. and is free with the cost of admission. Admission is $6 for adults and $3 for children. This event is part of a series of Special Saturday events at Connecticut's Old State House.
In addition to the listed activities, visitors can explore a new exhibit -showcasing a variety of paths that Connecticut citizens have followed in order to effect change in the state over time.
The museum will also have its perennial favorites available to the public including Joseph Steward's Museum of Curiosities and the interactive multimedia exhibit "History is All Around Us". Thirty-minute guided or self-guided, self-paced tours of the historic chambers, a discovery back-pack activity and orientation video are also available for visitors.
Connecticut's Old State House is located within walking distance to the Connecticut Science Center and the Wadsworth Atheneum.
Validated parking is available for $5.00 at South Street Parking Garage. The ticket must be stamped at the Old State House.
Located in Hartford, Connecticut's Old State House invites visitors of all ages to reawaken their own civic engagement and awareness through authentic, educational and inspiring visitor experiences. The building served as the Constitution State's original seat of government from 1796 to 1878. It serves today as a physical and virtual classroom, teaching lessons of citizenship past and present and enriching Connecticut's communities as a laboratory where people of all ages can interact and discover that their voices matter, and that words, ideas, persuasion and debate really can change minds - and quite possibly, the world.
Educational and community programming for Connecticut's Old State House is managed for the Connecticut General Assembly by the Connecticut Public Affairs Network, Inc., a nonprofit company founded to provide comprehensive and unbiased educational programming and outreach on state government, civics and citizenship. Programs are scheduled to change without notice. For more information, visit Connecticut's Old State House online at http://www.ctoldstatehouse.org.
Contact:
Meaghan Mackin
(860) 246-1553, ext. 116
# # #