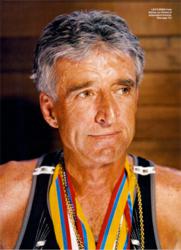 Los Angeles, CA (PRWEB) May 22, 2012
Frank Shorter, igniter of the running boom in the United States, reached another milestone with the official launch of his website, FrankShorter.net. The German born marathon runner has been in the national spot light since his first U.S. national titles in 1970 in the 5000-meter and 10,000-meter events. His career only took off from there as he went on to win the U.S. national 10,000-meter event in 1971, 1974, 1975 and 1977.
The big turn in his career came in 1972 when he won the gold medal in the marathon event at the Summer Olympics in Munich, Germany. After this major win, he returned to the states to be awarded the James E. Sullivan Award as the top amateur athlete in the United States. His victory is credited with igniting the running boom in the United States of the 1970s.
This running boom inspired Frank to head back to the international competitive stage to bring back home more gold. In 1976, he headed to the Summer Olympics in Montreal, Canada in pursuit of the gold, but returned with the silver medal in the marathon event. This second victory in the Olympics propelled Frank's national recognition as he became the only American athlete to win two medals in the Olympic marathon event. These accomplishments fueled Frank to take on the road racing circuit where he went onto win the Peachtree Road Race in 1977 along with the Falmouth Road Race in 1975 and 1976.
Frank also excelled in the classroom as he went on to graduate from Yale University with a Bachelor of Arts degree in 1969. Shorter then took his talents to Gainesville to pursue a law degree from the University of Florida. In 1974, he graduated from the University Of Florida College Of Law with a Juris Doctorate degree.
With all these amazing accomplishments, his greatest came when in 1984 when he was inducted into the Olympic Hall of Fame followed by the induction to USA National Track and Field Hall of Fame in 1989.
As you navigate through his newly launched site, you will notice Frank has kept busy with Corporate Appearances along with Speaking Engagements. Some of his notable athlete appearances have been at the Chicago Humanities Festival event, Bolder Boulder 10K race, and the Frank Shorter Race 4 Kids which is a fundraiser for Healthy Learning Paths.
To learn more about Frank Shorter's career or to book him from a speaking engagement, sprint over to his newly launched site http://www.FrankShorter.net.
Written by: Anthony Fernandez
About AthletePromotions.com
AthletePromotions is a sports marketing firm and athlete booking agency securing thousands of athletes for speaking engagements, corporate appearances, product endorsements, autograph signings, spokesperson campaigns, celebrity golf tournaments, VIP Meet & Greets and more. To book an athlete, call us at 1.888.246.7141
Ryan Totka and his team at AthletePromotions have assisted corporations in booking Frank Shorter and Olympic athletes for speaking engagements, corporate appearances and VIP Meet & Greets.