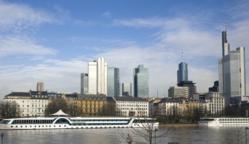 Frankfurt's role as Europe's financial center often puts pressure on hotel prices and pushes away budget travelers. However, we visited dozens of hotels in the city and uncovered many that, surprisingly, won't break the bank
New York, NY (PRWEB) April 05, 2012
EuroCheapo.com, the guide to budget hotels in Europe, today announced the launch of its guide to cheap hotels in Frankfurt. This further expands the company's presence in Germany, joining guides to hotels in Berlin and Munich.
"Frankfurt's role as Europe's financial center often puts pressure on hotel prices and pushes away budget travelers," said Tom Meyers, EuroCheapo's founder and Editor-In-Chief. "However, we visited dozens of hotels in the city and uncovered many that, surprisingly, won't break the bank."
While developing the Frankfurt guide, EuroCheapo's editors visited, inspected and photographed budget-friendly hotels and hostels, selecting properties that they felt provided the greatest value, including 25 properties with double room rates starting at under $100.
Additionally, EuroCheapo's Frankfurt guide includes articles and blog posts covering tips to saving on sightseeing, dining, transportation and more.
"EuroCheapo has been devoted to finding Europe's best budget hotels since our launch in 2001," continued Meyers. "We were founded in Berlin, so we're very happy to be adding a new German destination. It's a Cheapo homecoming."
About EuroCheapo
EuroCheapo.com is a free guide to budget travel in Europe. The site's travel experts inspect and review inexpensive hotels, pensions, B&Bs and hostels in 33 popular and pricey cities. EuroCheapo does not charge hotels to be listed on its Web site. The site also publishes detailed city articles covering topics that include public transportation, museum passes, budget airlines and cheap eats.
EuroCheapo has been featured in the New York Times, USA Today, public radio's Marketplace, Chicago Tribune, and Budget Travel magazine, among other media outlets. In addition, EuroCheapo was named one of PC Magazine's "Top 100 Undiscovered Web Sites."
EuroCheapo is owned and operated by Over There Interactive, Inc. and is based in New York