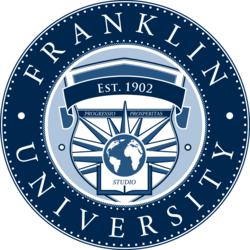 Dayton, OH (PRWEB) May 23, 2013
Franklin University, a leading educator of working adults, is pleased to announce its Educational Partnership with the Advanced Technical Intelligence Center for Human Capital Development (ATIC) to include a tuition discount for all ATIC faculty, staff, students, and alumni who enroll in a Franklin degree program. In addition, graduates of ATIC's Analyst Boot Camp (ABC) program are eligible to receive transfer credits at Franklin University.
Formalization of this partnership provides employees and graduates of ATIC with the benefit of reduced tuition rates for both undergraduate and graduate programs at Franklin as well as the acceptance of 12 credits of undergraduate credit and 8 credits of graduate credits for a number of Franklin's undergraduate and Master of Public Administration programs.
The primary mission of ATIC is to educate and train a workforce of appropriately cleared government and contractor personnel capable of generating actionable information from technical intelligence systems. By partnering with Franklin, ATIC employees and graduates can earn a bachelor's or master's degree which increases their value to national, state, and local agencies, as well as contractors, supporting critical missions throughout the intelligence community.
About ATIC
Headquartered in Dayton, Ohio, the Advanced Technical Intelligence Center for Human Capital Development is an independent, nonprofit organization dedicated to addressing critical human capital and technological development needs within the U.S. Intelligence Community and related industries. To achieve this, ATIC collaborates with industry, government, and academia to leverage their combined knowledge and technical capabilities. For more information visit http://www.atichcd.org.
About Franklin University
Founded in 1902, Franklin University is one of the leading and most experienced educators of adult students. Annually, nearly 11,000 students attend Franklin, through its Main Campus in downtown Columbus, Ohio, three Central Ohio locations, regional locations in Beavercreek, Ohio and Indianapolis, as well as at five co-locations across Ohio, in addition to online. Franklin offers more than 40 undergraduate and graduate programs (with a new Risk Management and Insurance undergraduate major available this Fall) and graduates more than 1,500 students annually. The University's MBA program is offered internationally through agreements with institutions in Europe and the Middle East. Further information regarding Franklin University can be found at http://www.franklin.edu.