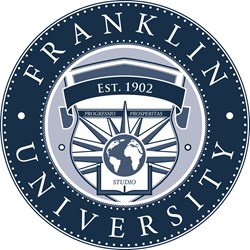 Columbus, OH (PRWEB) January 14, 2014
Franklin University, one of the leading educators of working adults in central Ohio, celebrated its 145th Commencement on Sunday, Jan.12. Along with honoring the graduates, Franklin recognized Stephanie Wagenschein and Dr. Ron Hartung from its faculty as recipients of the distinguished Robert L. Bailey Teaching Award.
Congratulations to this trimester's recipients: Stephanie Wagenschein and Dr. Ron Hartung.
Stephanie Wagenschein has been an adjunct professor at Franklin in the undergraduate Accounting program since 2003. She holds a B.S in Accounting and an MBA from Franklin University. A Certified Fraud Examiner, Stephanie has eight years of service in the banking industry and 10 years of public service with the State of Ohio. In addition to her accounting experience, Stephanie brings enthusiasm to the classroom, and provides ongoing encouragement to her students. Stephanie has also received two Star Awards for excellence in Teaching at Franklin.
Student Nomination:
"Professor Wagenshein inspired our whole class to push really hard and went the extra mile with all of us by staying overtime, as well as off work hours to assist us with our homework and work. She is an amazing teacher and has encouraged me to keep pushing and keep striving to be successful."
Dr. Ron Hartung has been a Franklin adjunct since the early 1990's and served 11 years as a full-time faculty member. He holds a B.S in electrical engineering and an M.S and Ph.D. in Computer Science. His professional career includes work in software design and applied research at Bell Laboratories, The Naval Surface Weapons Center and Qwest communications. He currently works at the Design Knowledge Company in Fairborn, Ohio as a senior researcher in artificial intelligence and cognitive architecture. He finds the two most fulfilling and worthwhile activities in life to be learning and sharing learning. For this reason he has always felt privileged to teach and to discover anew, that learning takes place on both sides of a classroom.
Student Nomination:
"I always appreciated Dr.Hartung's practical approach to subjects and learning. He also agreed to do a one-on-one with me for an Independent Study in Artificial Intelligence, which is his specialty. His willingness to do that for an individual student speaks to his passion for teaching and commitment to students."
About the Robert L. Bailey Teaching Award
Each trimester, two faculty members are honored with the Robert L. Bailey Teaching Award. Graduating students are asked to identify one undergraduate and one graduate faculty member who had the most significant influence on them throughout their educational experience at Franklin University. The award recognizes those who have challenged students intellectually and guided them in finding the significance of the course content as it relates to them both personally and professionally.
While more than 100 graduate and undergraduate faculty members are nominated each trimester – demonstrating the magnitude of interaction between students and faculty at Franklin University – the faculty members receiving the most nominations are awarded this honor.
These awards are funded through an endowment established by State Auto Insurance Companies in recognition of Robert L. Bailey, who served State Auto for 28 years in various positions, including President, CEO, and Chairman, until his retirement in 2000. Bailey is also a past Chair and a Trustee Emeritus of Franklin University's Board of Trustees.
About Franklin University
Founded in 1902, Franklin University is one of the leading and most experienced educators of adult students. Annually, nearly 10,000 students attend Franklin, through its Main Campus in downtown Columbus, Ohio, three Central Ohio locations, regional locations in Beavercreek, Ohio and Indianapolis, as well as at five co-locations across Ohio, in addition to online. Franklin offers more than 40 undergraduate and graduate programs (including the new Risk Management and Insurance undergraduate major available this Fall) and graduates more than 1,500 students annually. The University's MBA program is offered internationally through agreements with institutions in Europe and the Middle East. Further information regarding Franklin University can be found at http://www.franklin.edu.
Franklin University is accredited by The Higher Learning Commission (HLC), the International Assembly for Collegiate Business Education (IACBE), and the Commission on Collegiate Nursing Education (CCNE).