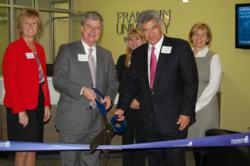 Beavercreek, OH (PRWEB) November 09, 2012
Franklin University hosted its Beavercreek location grand opening on Thursday, Nov. 8, providing government, business, and community members with an opportunity to tour the new facility as well as socialize with representatives from the University.
The event marked the culmination of nearly six months of development, efforts which launched in June after the University received approval from the Higher Learning Commission (HLC) to expand its program offerings through a new regional location.
The main program included remarks from:

Jane Robinson, Senior Vice President for Administration and Chief of Staff
Dr. David R. Decker, President, Franklin University
Gary James, Chairman, Franklin University Board of Trustees
Toni Overholser, CEO/President, Beavercreek Chamber of Commerce
Sandy Brubaker, Director of the Beavercreek Location, Franklin University
The new Beavercreek regional location at Pentagon Pointe, 3800 Pentagon Blvd.at Fairfield Commons, provides students from Clark State Community College, Edison State College, and Sinclair Community College, as well as local students with previously earned credits higher accessibility to earn their Bachelor's degree through the University's transfer friendly programs. Students will have access to face to face programs, on-site advising services and student services such as a testing center.
A number of undergraduate programs are available through Franklin's College of Arts, Sciences & Technology, College of Business, and College of Health & Public Administration, as well as Graduate programs in areas of Business, Human Resources, Marketing, Healthcare, Public Safety, Accounting and Computer Science.
The convenient new Beavercreek location includes advising, multi-functional classrooms, student study rooms, computer labs, testing center, a student lounge, and free parking.
For more information on the new Beavercreek location, visit http://beavercreek.franklin.edu.
About Franklin University
Founded in 1902, Franklin University is one of the leading and most experienced educators of adult students. Annually, more than 11,000 students attend Franklin, both at its Main Campus in downtown Columbus, Ohio, three Central Ohio locations, and at its two regional locations in Beavercreek, Ohio and Indianapolis, in addition to online. Franklin offers more than 40 undergraduate and graduate programs (with four new graduate programs available Winter 2013) and graduates more than 1,500 students annually. The University's MBA program is offered internationally through agreements with institutions in Europe and the Middle East. Further information regarding Franklin University can be found at http://www.franklin.edu.