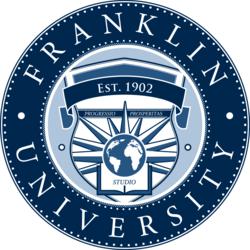 Columbus, Ohio (PRWEB) February 07, 2013
Franklin University, one of the leading educators of working adults, is proud to be the recipient of a $25,000 grant from the Cardinal Health Foundation. The grant will fund scholarships for students transferring from Columbus State Community College (CSCC) into Franklin University's healthcare-related majors.
"We are grateful to the Cardinal Health Foundation for its help in expanding opportunities for students to continue their education goals," said Bonnie Quist, Vice President for University Advancement and Strategic Relations, Franklin University. "We are especially excited about the creation of this scholarship, as it reinforces our long standing educational partnership with Columbus State Community College creating an easy path for CSCC students to transfer into Franklin programs. The Cardinal Health Foundation Transfer Scholarship makes this pathway even more easily accessible."
Through the new grant, 25 transfer scholarships will be available in the amount of $1,000 beginning Fall 2013. The merit based, transfer scholarship, is for use in paying for tuition and fees only. Students qualifying for the transfer scholarship must be a graduate of or a transfer student of CSCC and must be seeking a healthcare related degree at Franklin University and have a G.P.A. of 3.0. In addition, qualifying students must have completed and passed Franklin University's PF321 and Global Issues (HUMN 305) courses and be enrolled in a minimum of six credit hours. (Franklin employees are not eligible for this scholarship).
The Cardinal Health Foundation Transfer Scholarship will help ensure those wanting the opportunity to advance towards their bachelor's degree in the healthcare field at Franklin University will have an opportunity for financial assistance.
"As the health care industry continues to evolve, there is an increasing need for well-trained professionals," said Dianne Radigan, director, Community Relations at Cardinal Health. "Cardinal Health is pleased to be able to support scholarships that will help ensure that our community has the credentialed professionals needed to deliver quality care."
About Franklin University
Founded in 1902, Franklin University is one of the leading and most experienced educators of adult students. Annually, more than 11,000 students attend Franklin, both at its Main Campus in downtown Columbus, Ohio, three Central Ohio locations, and at its location in Indianapolis, in addition to online. Franklin offers more than 40 undergraduate and graduate programs (with four new graduate programs available Winter 2013) and graduates more than 1,500 students annually. The University's MBA program is offered internationally through agreements with institutions in Europe and the Middle East. Further information regarding Franklin University can be found at http://www.franklin.edu.
###