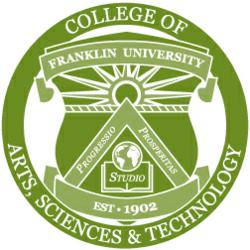 Columbus, OH (PRWEB) January 22, 2012
Franklin University, one of the leading educators of working adults, is pleased to announce it has been selected to participate in the Choose Ohio First Scholarship Program, providing additional financial access to educational opportunities for students in the University's Management Information Sciences and Computer Science majors.
The Choose Ohio First Scholarship Program is designed to significantly strengthen Ohio's competitiveness within Science, Technology, Engineering, Mathematics, and Medicine (STEM) disciplines and STEM education. Choose Ohio First funds higher education and business collaborations that will have the most impact on Ohio's position in world markets such as aerospace, medicine, computer technology and alternative energy. These collaborations will ultimately produce substantive improvements to the pipeline of STEM graduates and STEM educators in Ohio.
A new scholarship opportunity for Franklin students, this scholarship is funded in partnership between the Ohio Board of Regents (OBR) and Franklin University.
As a participant in the scholarship program, Franklin University students have access to an additional $2500 to $6200 in financial support per academic year, additional advising and mentoring opportunities, the opportunity to participate in special programs sponsored by OBR for Choose Ohio First scholars, as well as various networking opportunities.
Undergraduate students in Franklin's Management Information Sciences and Computer Science majors must meet the following requirements to participate in this merit-based program:

Must be an Ohio resident (current resident or graduate of an Ohio high school)
(Preference) Be a first generation to attend college
Must maintain an overall 3.0 G.P.A., with a G.P.A. of at least 3.0 in major courses
Complete an application detailing why the student chose a STEM major, the student's strengths in this major, estimated graduation date, and future career goals, as well as how this scholarship will contribute to the student's education.
The applicant must submit or have on file at Franklin transcripts from previous academic work, including college and high school transcripts.
For more information about Franklin University's Choose Ohio First scholarship, visit: http://www.franklin.edu/financial-aid/scholarships/
About Franklin University
Founded in 1902, Franklin University is one of the leading and most experienced educators of adult students. Annually, more than 11,000 students attend Franklin, both at its Main Campus in downtown Columbus, Ohio, three Central Ohio locations, and at its newest location in Indianapolis, in addition to online. Franklin offers 30 undergraduate majors (including the new B.S. in Nursing (RN-BSN) Major) as well as five graduate programs and graduates more than 1,500 students annually. The University's MBA program is offered internationally through agreements with institutions in Europe, the Middle East, and Asia. Further information regarding Franklin University can be found at http://www.franklin.edu.
###