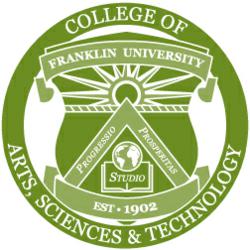 Columbus, Ohio (PRWEB) January 23, 2012
Franklin University, one of the leading educators of working adults, is pleased to announce Christopher Simons, a student in the Computer Science Major, successfully completed Part 2 of the distinguished 2011 IBM Master the Mainframe contest.
Fewer than 10% of the students who entered this year's contest achieved Part 2 completion distinction. The students who did successfully complete the contest tasks earned a certificate from IBM and an invitation to upload their resumes to the IBM Student Opportunity System, a database of resumes from talented students who have IBM professional certifications or technical skills on IBM and open source technologies.
Completion of the second level of the Master the Mainframe Contest required an extensive amount of work from contestants. Participants were asked to perform sophisticated systems programming (advanced commands, system setup and advanced system navigation) and application development (C, JAVA, COBOL, assembler and REXX) tasks.
Simons joins an elite group of students from universities including Syracuse University, Purdue University, and Northern Illinois University. The 2011 competition drew over 3,900 students from across the U.S. and Canada, making this year's contest IBM's largest to date. In addition to competing against the largest ever pool of contestants, the difficult challenges made this year's competition the toughest contest in the competition's history.
Finalists deserve special recognition for distinguishing themselves through their extraordinary enterprise computing accomplishments. Simons is to be congratulated on the initiative required to participate in this contest and on the talent required for him to be successful in completing the required tasks.
For more information about the IMB Master the Mainframe Contest visit: http://www.ibm.com/developerworks/university/students/contests/mainframe/winners.html
Franklin University's B.S. in Computer Science provides students with the strong foundation of knowledge necessary to keep pace with the ever-evolving computer science industry. Franklin's curriculum goes beyond basic object-oriented programming with an emphasis on test-driven development, patterns, and data structures to include algorithm development, a practicum sequence modeling a real world enterprise environment, and more. Students graduating with a bachelor's degree in Franklin's Computer Science Major learn advanced concepts that equip them for career advancement and prepare them to lead technology initiatives in their organizations – or to earn a master's degree in Computer Science.
About Franklin University
Founded in 1902, Franklin University is one of the leading and most experienced educators of adult students. Annually, more than 11,000 students attend Franklin, both at its Main Campus in downtown Columbus, Ohio, three Central Ohio locations, and at its newest location in Indianapolis, in addition to online. Franklin offers 30 undergraduate majors (including the new B.S. in Nursing (RN-BSN) Major) as well as five graduate programs and graduates more than 1,500 students annually. The University's MBA program is offered internationally through agreements with institutions in Europe, the Middle East, and Asia. Further information regarding Franklin University can be found at http://www.franklin.edu.
###