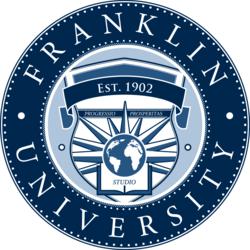 Columbus, OH (PRWEB) October 02, 2012
Franklin University, a leader in educating working adults, is pleased to announce the addition of its newest member, Dr. Kathleen Lee, Chancellor of the Central Indiana Region for Ivy Tech Community College, to its Community College Alliance (CCA) Council of Presidents.
Nearly a decade in existence, the Council of Presidents provides strategic-level advisement to Franklin's leadership on relevant issues facing community colleges. Through this guidance, the Council helps identify opportunities for collaboration that strengthen partnerships leading ultimately to an improved learning experience for students in all community college settings, whether they be rural, suburban, or urban.
Working through Franklin University's Community College Alliance, the Council helps identify opportunities to provide access to an affordable and transfer-friendly baccalaureate degree option for students seeking the professional education needed to compete in a global economy.
Federal education survey data shows that 81.4% of students entering community colleges for the first time plan to earn bachelor's degree. With this data in mind, community colleges and universities have a responsibility to not only provide students with the skills that will improve their employment prospects, but to also identify streamlined pathways to a bachelor's degree.
"The need for community colleges and universities to work together to identify education pathways is more important than ever in today's economy," said Dr. David Decker, President, Franklin University. "The inclusion of Dr. Lee on our Council creates the perfect complement to the leadership and experience already present on our Council. In addition, her involvement on the council further strengthens the partnership that exists between our two institutions. A partnership initiated out of a geographic proximity but continued through a dedication to academic excellence and opportunity. Through the Council's advisement we can continue our long-standing commitment to serving the needs of students by making higher education accessible, affordable and relevant."
About Dr. Kathleen Lee
Dr. Kathleen Lee has worked for Ivy Tech 27 years, most recently serving as Interim Chancellor. She began her tenure with Ivy Tech at its Indianapolis campus in 1985 as the Director of Clinical Education for the respiratory care program. Eventually, she served as Dean of the School of Health Sciences and Public Services and in 2005 became Vice Chancellor of Academic Affairs.
About the Council of Presidents
The CCA Council of Presidents is a voluntary Franklin University association comprised of presidents representing community and technical colleges across the country. The Council provides a forum for the presidents to meet and share their thoughts on current topics of student success, completion, and affordability, as well as supports the national call for increased student completion rates.
The Council of Presidents meets every four months and is comprised of the following presidents:

Dr. Kevin S. Boys, President, Southern State Community College (Ohio)
Dr. Cynthia A. Bioteau, President, Salt Lake Community College (Utah)
Dr. Paul Brown, President, Zane State College (Ohio)
Dr. Hank Dunn, President, Asheville-Buncombe Technical Community College (North Carolina)
Dr. John Erwin, President, Illinois Central College (Illinois)
Dr. Conway A. Jeffress, President, Schoolcraft College (Michigan)
Dr. Michael Lanser, President, Lakeshore Technical College (Wisconsin)
Dr. Kathleen Lee, Chancellor, Ivy Tech Community College's Central Indiana Region (Indiana)
Dr. Marilynn Liddell, President, Aims Community College (Colorado)
Dr. Carole A. McCoy, President, Jefferson Community College (New York)
Mr. Donald L. Plotts, President, North Central State College (Ohio)
About Franklin University
Founded in 1902, Franklin University is one of the leading and most experienced educators of adult students. Annually, more than 11,000 students attend Franklin, both at its Main Campus in downtown Columbus, Ohio, three Central Ohio locations, and at its location in Indianapolis, in addition to online. Franklin offers more than 40 undergraduate and graduate programs (with four new graduate programs available Winter 2013) and graduates more than 1,500 students annually. The University's MBA program is offered internationally through agreements with institutions in Europe and the Middle East. Further information regarding Franklin University can be found at http://www.franklin.edu.