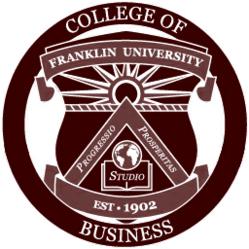 Columbus, Ohio (PRWEB) June 21, 2013
Franklin University, a leading educator of adult students, is pleased to announce the appointment of Dr. JoAnna Williamson as the Chair of the Department of Management and Marketing, as well as Dr. Martina Peng, C.F.P. as Chair of the Department of Accounting, Finance and Economics within the College of Business.
The Franklin University College of Business' mission is to educate future business leaders by employing effective instructional techniques to deliver world-class business education. Through innovative and relevant curriculum, the College and its faculty members help develop business professionals who drive sustainable growth in a complex, global economy.
Dr. JoAnna Williamson joined Franklin University in 2011 as Program Chair of the Master of Science in Marketing and Communication (MCM) Program. Dr. Williamson has more than 35 years of professional experience in the corporate, non-profit, and entrepreneurial sectors, including serving in product management with the Proctor & Gamble Company in Cincinnati, Ohio and as Senior Vice President of Marketing for the former National City Bank in Columbus, Ohio. She has also served as an Executive-in-Residence and a Visiting Assistant Professor of Marketing in the College of Business at Ohio University in Athens, Ohio, an adjunct professor in the Business Programs Department at Columbus State Community College, and a University of Phoenix on-line/on-ground course facilitator. She holds a Ph.D. in strategic (marketing) communication from The University of North Carolina at Chapel Hill, a Juris Doctor degree from Capital University Law School, and an MBA degree and a Bachelor of Arts in Journalism degree from The Ohio State University.
Dr. Martina Peng joined Franklin University in 2008 as Lead Faculty in Financial Management. She earned an MBA from the State University of New York at Buffalo and a Ph.D. in Consumer Finance from the Ohio State University. Dr. Peng was awarded the Certified Financial Planner™ (CFP®) designation by the Certified Financial Planning Board of Standards Inc. in September 2010. Her research interest focuses on individual and household financial decision-making, financial behavior analysis, and financial education policy. She serves as the Program Director on the Financial Planning Association Central Ohio Chapter (FPA). She is also an active member of the National Association of Personal Financial Advisors (NAPFA), and the Society of Financial Service Professionals (FSP). Currently Dr. Peng is leading the Financial Planning Program and the Risk Management and Insurance Program.
The Franklin University College of Business educates future business leaders by employing effective instructional techniques to deliver world-class business education.
About Franklin University
Founded in 1902, Franklin University is one of the leading and most experienced educators of adult students. Annually, nearly 10,000 students attend Franklin, through its Main Campus in downtown Columbus, Ohio, three Central Ohio locations, regional locations in Beavercreek, Ohio and Indianapolis, as well as at five co-locations across Ohio, in addition to online. Franklin offers more than 40 undergraduate and graduate programs (including the new Risk Management and Insurance undergraduate major available this Fall) and graduates more than 1,500 students annually. The University's MBA program is offered internationally through agreements with institutions in Europe and the Middle East. Further information regarding Franklin University can be found at http://www.franklin.edu.