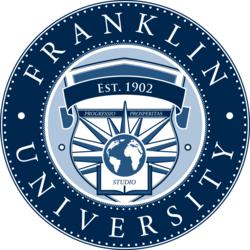 Columbus, OH (PRWEB) August 03, 2012
Franklin University, one of the leading educators of working adults in Central Ohio, is proud to announce the visit of Dr. Joanna Nogiec from the Wroclaw School of Banking, as a Short-Term Scholar. Dr. Nogiec's visit to Franklin University was conducted as part of the U.S. Department of State (DOS) Exchange Visitor Program.
Short-Term Scholars are permitted to participate in lecturing, observing, and consulting in seminars, workshops, conferences, study tours, professional meetings, or similar types of educational and professional activities for a period of up to six months.
During her one-month visit, Dr. Nogiec participated in research and experiential activities such as examining e-learning methods and software, contributing as a guest lecturer, and consulting with faculty and staff on Franklin University's Learning Management System (LMS). Her exploration also included participation in various faculty and staff meetings, class observation, and other campus operations.
The purpose of the Exchange Visitor Program, administered by the Department of State under the provisions of the Mutual Educational and Cultural Exchange Act of 1961, as amended, is to increase mutual understanding through educational and cultural exchanges between the people of the U.S. and people of other countries. The Exchange Visitor Program provides foreign nationals opportunities to participate in exchange programs in the United States with the expectation that upon completion of their exchange program, they will return home to share their experiences.
Participating in the Exchange Visitor Program allows the University to stay consistent with current trends in internationalizing curriculum, and helps facilitate our efforts to keep Franklin abreast of what is happening in the world. The designation also helps Franklin better serve students as they prepare for an increasingly global economy and workplace.
The U.S. Department of State designates U.S. organizations such as government agencies, academic institutions, educational and cultural organizations, and corporations as sponsors to administer exchange visitor programs. Sponsors screen and select exchange visitors to participate in their programs based on the regulations governing the exchange activity and stated in 22 CFR Part 62. Sponsors provide participants pre-arrival information, an orientation, monitor their activities and provide cross-cultural experiences throughout their exchange program.
About Franklin University
Founded in 1902, Franklin University is one of the leading and most experienced educators of adult students. Annually, more than 11,000 students attend Franklin, both at its Main Campus in downtown Columbus, Ohio, three Central Ohio locations, and at its location in Indianapolis, in addition to online. Franklin offers more than 30 undergraduate majors as well as five graduate programs and graduates more than 1,500 students annually. The University's MBA program is offered internationally through agreements with institutions in Europe and the Middle East. Further information regarding Franklin University can be found at http://www.franklin.edu.