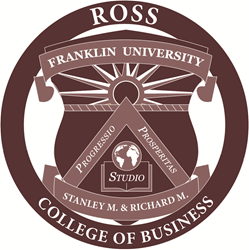 Columbus, OH (PRWEB) July 03, 2014
Franklin University, a leading educator of working adults, is pleased to announce the addition of its new Entrepreneurship - Bachelor of Science program to the Ross College of Business offerings beginning in Fall 2014.
Successful business ventures start with a solid plan, and a successful entrepreneur takes calculated risks in order to realize reward. While most entrepreneurs wear many hats running their own small businesses, others put their skills to work for a wide-range of organizations. Some are social entrepreneurs, who build for-profit arms of nonprofit organizations, while others work as intrapreneurs for large corporations, where they develop ideas into new line of business. Regardless of the industry or size of the organization, deploying effective tactics that grow business is paramount to success.
Designed specifically for transfer students, Entrepreneurship is a degree completion program that allows students to transfer 24 hours of technical credit for certifications, licensures, on-the-job training and previously earned college credit in more than 130 different disciplines.
Through relevant curriculum, students develop competencies and skills that are necessary for the effective creation, development, and growth of small to large-scale businesses, including idea generation, opportunity recognition, resource acquisition, and methods for generating capital and funding. Students acquire skills in key day-to-day business areas, like commercialization and marketing, management and operations, leadership and business strategy, and accounting and finance.
In our Entrepreneurship program, students benefit by learning from practitioners with extensive real-world business experience. Franklin's faculty bring their successes and challenges into the classroom through unique case studies that enable students to tailor their learning to career goals. And because an expert advisory panel regularly reviews Franklin's curriculum, students can be assured that the entrepreneurship and business courses at Franklin contain relevant and impactful learnings that can applied in their professional field.
Careers are available as a small business owner, management analyst, operations manager, administrative service manager, social & community manager, or purchasing manager.
Classes are available 100% online. For more information, visit our Entrepreneurship - Bachelor of Science Degree page at https://www.franklin.edu/entrepreneurship-degree-program.
Learn how many previously earned credits will transfer into the new Entrepreneurship – Bachelor of Science program using Franklin's new MyTransferCredit tool: https://www.franklin.edu/transfer-credit-college-course-equivalency-tool/.
About Franklin University
Founded in 1902, Franklin University is one of the leading and most experienced educators of adult students. Annually, nearly 10,000 students attend Franklin, through its Main Campus in downtown Columbus, Ohio, three Central Ohio locations, regional locations in Beavercreek, Ohio and Indianapolis, as well as at five co-locations across Ohio, in addition to online. Franklin offers more than 40 undergraduate and graduate programs (including the new Risk Management and Insurance undergraduate major) and graduates more than 1,500 students annually. The University's MBA program is offered internationally through agreements with institutions in Europe and the Middle East. Further information regarding Franklin University can be found at http://www.franklin.edu.
Franklin University is accredited by The Higher Learning Commission (HLC), the International Assembly for Collegiate Business Education (IACBE), and the Commission on Collegiate Nursing Education (CCNE).