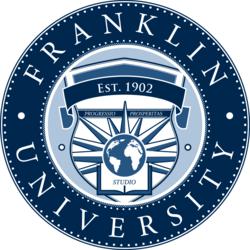 Columbus, Ohio (PRWEB) January 04, 2013
Franklin University, one of the leading educators of working adults, will hold its 142nd Commencement Ceremony on Sunday, Jan. 6, 2013, during which nearly 700 degree candidates will receive their diplomas at Veterans Memorial Auditorium.
Ohio Supreme Court Justice Evelyn Lundberg Stratton will provide the keynote address. She began her legal career in the courtrooms of Central Ohio. In 1989, she was the first woman to be elected Judge of the Franklin County Common Pleas Court, where she became known as the "Velvet Hammer" for her approach to sentencing in serious felony cases. Her success on the trial bench led to an appointment in 1996 to the Supreme Court of Ohio, where she was elected to a third term in 2008.
Justice Stratton believes that the courts, in partnership with the mental health system, can affect positive change in the lives of many defendants whose mental illness has led to criminal activity. To that end, Justice Stratton formed The Supreme Court of Ohio Advisory Committee on Mental Illness & the Courts, which is composed of mental health, law enforcement and criminal justice professionals who are dedicated to mental health initiatives in the court system.
Nationally, Justice Stratton is the co-founder and former co-chair of the Judges' Leadership Initiative, a professional association that supports cooperative mental health programs in the criminal justice system. Her latest focus, in Ohio and nationally, is on establishing veterans' courts to help those returning veterans with PTSD and other issues which may lead to involvement in the criminal justice system.
Justice Stratton has received many honors including the Congressional Coalition on Adoption's Angels Award, as well as the U.S. Department of Health & Human Services' Adoption Excellence Award. In May of 2008, Justice Stratton received the Ellis Island Medal of Honor which pays tribute to American citizens of diverse origins for their outstanding contributions to their communities, their nation and the world. The Ellis Island Medal of Honor ranks among the nation's most prestigious awards. Recipients of the award are listed in the Congressional Record.
Justice Stratton and her husband John A. Lundberg are parents of two adult sons.
Graduating MBA student Marco Bonta will also address the graduates. He is the Medical Director of Trauma and Surgical Services at Riverside Methodist Hospital. He has been a physician for nearly 30 years, focusing recently on surgical treatment of the critically injured. He is the former Board Chair of MedFlight of Ohio, and his research interests are in the area of triage decisions for the critically ill.
Marco previously earned a B.S. in Zoology at The Ohio State University and a MD degree from the Medical College of Ohio at Toledo (now known as the University of Toledo). Marco lives in Upper Arlington with his wife and son.
About Franklin University
Founded in 1902, Franklin University is one of the leading and most experienced educators of adult students. Annually, more than 11,000 students attend Franklin, both at its Main Campus in downtown Columbus, Ohio, three Central Ohio locations, and at its location in Indianapolis, in addition to online. Franklin offers more than 40 undergraduate and graduate programs (with four new graduate programs available Winter 2013) and graduates more than 1,500 students annually. The University's MBA program is offered internationally through agreements with institutions in Europe and the Middle East. Further information regarding Franklin University can be found at http://www.franklin.edu.
###