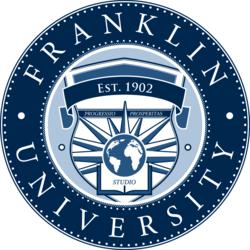 Indianapolis, IN (PRWEB) September 27, 2012
Franklin University of Ohio, one of the leading educators of working adults, is proud to announce it will participate as a sponsor of the 2012 Indiana Hospital Association (IHA) Annual Meeting Oct. 1-3.
"Sponsoring such an important and impactful event is a natural outreach of our R.N. to B.S.N. major," said Marnie Glanner, Executive Director of Franklin's Indianapolis location. "Being a sponsor of the 2012 IHA Annual Meeting not only demonstrates our commitment to the development of healthcare professionals but also continues our dedication to being on the forefront of healthcare education by staying aware of relevant, innovative industry trends."
The IHA event brings together colleagues from across Indiana for three days of learning and networking and provides presentations by patient safety advocates, national leadership consultants and health care reform and election experts. Through this forum, hospital leaders will discuss best practices to improve patient safety, as well as learn about the future of health care.
In January, Franklin University announced its approval to offer its new B.S. in Nursing (RN to BSN) Major to its College of Health & Public Administration online offerings. The online degree completion program offers registered nurses a convenient way to enhance their ability to provide quality patient care and concurrently strengthen their value in the fast-growing nursing profession.
Franklin University's Bachelor of Science in Nursing Major is especially crafted to build on the unique attributes and expertise of adult learners. As a registered nurse (RN) with an associate's degree (ADN) or a nursing diploma, the comprehensive coursework can help you acquire stronger clinical reasoning, analytical, and leadership skills. Comprised of 6-week, all-online courses, the major is designed with the highest industry standards and uses the latest learning and assessment tools. Studies are underscored by the extensive nursing experience of the program's highly qualified faculty, as well as Franklin's tried-and-true online teaching methods and broad offering of healthcare degree programs.
About Franklin University
Founded in 1902, Franklin University is the leading and most experienced educator of adult students. Nationally recognized for its student-centered approach, the University offers accessible, relevant, and high-quality education to more than 11,000 students annually, both on campus and online. Franklin University graduates more than 1,500 students each year.
Franklin University in Indianapolis, IN is regulated by: The Indiana Commission on Proprietary Education, 302 W. Washington St., Room E201, Indianapolis, IN 46204, Toll Free Number 1.800.227.5695 or 317.232.1320.
Franklin University is accredited by The Higher Learning Commission of the North Central Association of Colleges and Schools, 30 N. LaSalle St., Suite 2400, Chicago, IL 60602-2504, 312.263.0456.
###