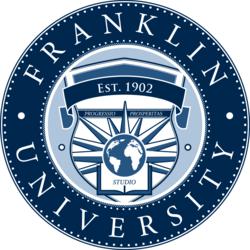 Beavercreek, OH (PRWEB) July 27, 2012
Franklin University, one of the leading educators of working adults, announced the appointment of Jenny Garringer as the Academic Admissions Advisor of its new Regional Location in Beavercreek, Ohio. Garringer most recently served as Business Programs Director for Miami-Jacobs Career College.
"The role of an academic advisor requires an individual who can successfully build a trustful rapport with students," said Bill Chan, Executive Director of Domestic Expansion at Franklin University. "Jenny has a strong background in developing relationships and understands the unique needs of today's adult students."
Garringer's position will continue the strong relationship Franklin University holds with residents in southwestern Ohio as well as with the community colleges in the area. As an academic admissions advisor, Garringer will act as a liaison between Franklin University and new and existing students, providing guidance on the University's numerous academic offerings and student-centered assistance.
In accepting her position, Garringer said, "I have a strong commitment to expanding educational opportunities for working adults and am dedicated to connecting Franklin with students in and around Beavercreek. I am excited by the opportunity to be part of a University so dedicated to supporting adults on their journey to achieving their academic and career goals."
For more than a decade, Garringer has served in a variety of higher education roles, most recently as Business Programs Director for Miami-Jacobs Career Center. Her background in higher education advising and marketing began at Wright State University where she began as an intern and rose to the level of marketing manager. An advocate of helping students achieve their goals, Garringer actively participates in continuing education opportunities focused on developing skills for upward mobility and small business development. She earned her MBA and Bachelor of Science in Business and Marketing from Wright State University.
Franklin's new regional location in Beavercreek allows the University to provide access to a broader community of learners and better serve the educational needs of southwestern Ohio residents, as well as students and alumni from our partner schools at Edison, Clark State, and Sinclair Community Colleges.
About Franklin University
Founded in 1902, Franklin University is one of the leading and most experienced educators of adult students. Annually, more than 11,000 students attend Franklin at its Main Campus in downtown Columbus, Ohio, three Central Ohio locations, in Indianapolis, through five new co-locations across Ohio, and new this fall in Beavercreek, in addition to online. Franklin offers more than 30 undergraduate majors as well as five graduate programs and graduates more than 1,500 students annually. The University's MBA program is offered internationally through agreements with institutions in Europe and the Middle East. Further information regarding Franklin University can be found at http://www.franklin.edu.
###