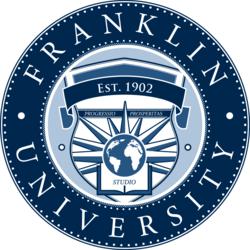 Columbus, Ohio (PRWEB) June 24, 2013
Franklin University, one of the leading educators of working adults, is pleased to announce the appointment of Dr. Lynne Hull as Dean of Students. Her experience in developing student programs, advising, student services, and enrollment bring a comprehensive level of experience and expertise to continue the University's commitment to supporting student success.
As the Dean of Students, Dr. Hull will have responsibility for the strategic leadership of student engagement services and initiatives in support of student success. These areas include undergraduate and graduate student advising, community standards, disability services, career services, student engagement activities, and international student services. Within this role, she will develop and implement strategies that increase student retention and engagement through the development of collaborative relationships with faculty, academic resources, enrollment management and institutional effectiveness areas.
"The success of our students is the greatest accomplishment a university can achieve," said Dean Hull. "I am excited to help guide the strategy that provides the opportunity for our students to have all the tools necessary to achieve their goals."
Bringing more than two decades of progressive leadership in higher education administration, Dr. Hull joined Franklin in January 2011 as the Director of New Student Enrollment. In April 2013 she was promoted to Director of Admissions when the University created a centralized admissions structure bringing together the functions of undergraduate, graduate, and international.
A long-time advocate of helping students advance their educational goals, Dr. Hull began her career path in Student Affairs and increased her core educational leadership competencies along the way to include enrollment management. Her extensive experience includes leading various student services including transfer advising, international student services, call center, student-development programming, and new student orientation programs.
Dr. Hull earned a Doctor of Philosophy in Leadership in Higher Education from Capella University, a Master's in College Student Personnel from Ohio University B.S. in Organizational Communication, also from Ohio University. She lives with her husband, and two children in Powell, Ohio.