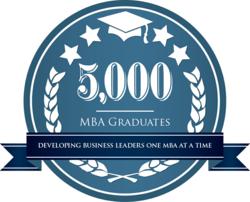 In one word…the Franklin MBA is transformational.
Columbus, OH (PRWEB) May 17, 2012
Franklin University, one of the leading educators of working adults, hosted its 140th Commencement Ceremony on Sunday, May 13, during which nearly 800 degree candidates received their diplomas at Veterans Memorial Auditorium. As part of the commencement celebration the University also celebrated the graduation of its 5,000th MBA student.
With a strong and established tradition of excellence, this celebrated MBA cohort now has the skills to influence their communities at home and across the globe. As well-rounded, adaptive, and strategic-thinking business leaders, these new graduates, and those who graduated before them, earned their degree while balancing careers and family responsibilities.
A few of Sunday's new graduates reflected on earning their MBA at Franklin University:
"In one word…the Franklin MBA is transformational. It completely changed the way I look at business. It changed how I communicate with different people at all levels. It opened my eyes to the importance of always keeping a fresh perspective on the world." Brian Wagner, MBA '12
"Earning my MBA at Franklin gave me the skills, knowledge, and ability to further my career globally. I work in international sales and the coursework within the MBA exposed me to new areas of development, both professionally and personally."
Deborah Risner, MBA '12
"I chose Franklin because no other MBA carries the weight of a Franklin MBA. Employers know that when employees come to them with a Franklin degree, they're ready to hit the ground running."
Erika Little, MBA '12
The Franklin MBA is a fully accredited program that can be completed in 16 months. Offered in many countries around the world, the Franklin MBA holds the distinction of being an accredited MBA by the International Assembly for Collegiate Business Education (IACBE).
Students in the MBA program are challenged to leverage their strengths and increase their ability to think expansively about how the world of commerce operates. The comprehensive theory-to-practice curriculum emphasizes analytics, contemporary business communication skills, and social responsibility, so students can build a foundation of practical business strategies and adaptable management skills that are noticed and needed in the ever-changing global marketplace.
For more than a decade, Franklin has remained a top-ranked business school in Central Ohio. Nationally and globally, the MBA was designated as a "Best Buy in Online MBAs" and received the "Highest Degree of Internationalization" ranking.
We congratulate the winter class of 2012 as they join the ranks of other renowned Franklin MBA graduates and redefine what business means in today's global landscape.
"Like" Franklin University's Facebook page (facebook.com/franklinuniversity) to see Commencement photos of the newest MBA cohort.
About Franklin University
Founded in 1902, Franklin University is one of the leading and most experienced educators of adult students. Annually, more than 11,000 students attend Franklin, both at its Main Campus in downtown Columbus, Ohio, three Central Ohio locations, and at its newest location in Indianapolis, in addition to online. Franklin offers 30 undergraduate majors (including the new B.S. in Nursing (RN-BSN) Major) as well as five graduate programs and graduates more than 1,500 students annually through its three academic colleges. The University's MBA program is offered internationally through agreements with institutions in Europe and the Middle East. Further information regarding Franklin University can be found at http://www.franklin.edu.