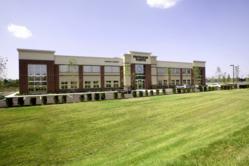 Beavercreek, OH (PRWEB) October 03, 2012
Franklin University, one of the leading educators of working adults, announced the appointment of Megan Fourcaud as the Student Support Coordinator for its new Regional Location in Beavercreek, Ohio.
"Megan's appointment to the role of Student Support Coordinator continues our commitment to student advocacy and engagement by drawing on her over four years of experience with Franklin to provide the same level of student service expected at our main campus" said Bill Chan, Executive Director of Domestic Expansion at Franklin University. "Her knowledge of the unique needs of adult students will be a tremendous asset in helping students define a path to achieve their education goals."
A two-year Transfer Credit Evaluator in Franklin's Office of the Registrar, Fourcaud's appointment to the new location will help transfer the University's footprint to the Beavercreek area. As the Beavercreek Student Support Coordinator, Fourcaud will be responsible for facilitating the admissions process, as well as for engaging members and organizations of the community with the University. In her role, Fourcaud will help with advising, student services, community engagement, and enrollment as needed.
In accepting her position, Fourcaud said, "Coming from the Transfer Credit Office I appreciate the need to make the admissions process as easy and straight-forward as possible. I look forward to continuing my work with students in this new role and am excited to help students in southwestern Ohio and at area community colleges as they work toward achieving their academic and career goals."
Fourcaud has served in a variety of roles focused on helping students achieve education success. During her four years with Franklin, she has served as a Transfer Credit Evaluator and Registrar Specialist, both with the University's Office of the Registrar. Prior to coming to Franklin, Fourcaud served as an information associate in the Undergraduate Admissions and First Year Experience programs at The Ohio State University.
Fourcaud earned her Bachelor of Arts in Sociology from The Ohio State University and is currently working toward earning a Master of Higher Education Administration from Upper Iowa University.
Franklin's new regional location in Beavercreek allows the University to provide access to a broader community of learners and better serve the educational needs of southwestern Ohio residents, as well as students and alumni from our partner schools at Edison, Clark State, and Sinclair Community Colleges.
About Franklin University
Founded in 1902, Franklin University is one of the leading and most experienced educators of adult students. Annually, more than 11,000 students attend Franklin, both at its Main Campus in downtown Columbus, Ohio, three Central Ohio locations, and at its location in Indianapolis, in addition to online. Franklin offers more than 40 undergraduate and graduate programs (with four new graduate programs available Winter 2013) and graduates more than 1,500 students annually. The University's MBA program is offered internationally through agreements with institutions in Europe and the Middle East. Further information regarding Franklin University can be found at http://www.franklin.edu.
###