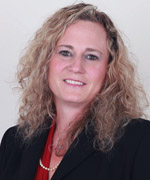 Employment of registered nurses is expected to grow 26 percent from 2010 to 2020, faster than the average for all occupations. (Source: U.S. Department of Labor, Bureau of Labor Statistics).
Columbus, OH (PRWEB) February 20, 2013
Franklin University, one of the leading educators of working adults in Central Ohio, is pleased to announce Dr. Melissa Popovich, Lead Nursing Faculty, Franklin University's College of Health and Public Administration, has been chosen as a "Top 20 Nursing Professors in Ohio" designee by StateStats.org for earning the title Certified Nurse Educator.
The goal of the top professors list is to highlight post-secondary educators who have been awarded recently for excellence in the classroom, on campus, and/or in the community. (http://onlineschoolsohio.com/top-college-professors-in-ohio/nursing-healthcare/).
As a nursing industry expert, Dr. Popovich shares her knowledge with others as Lead Faculty in the Franklin University College of Health and Public Administration, working on the development of the BSN completion program. She earned her Doctorate of Nursing Practice (DNP) from Chatham University where her research focused on improved stable patient flow through the Emergency Department at Nationwide Childrens Hospital. Prior to coming to Franklin, she served as the Director of Development for Kaplan University's School of Nursing.
Upon graduating with a Bachelor of Science in Nursing (BSN) from Capital University, Dr. Popovich began her professional nursing career at Columbus Children's Hospital. During the four years she worked with the hospital, her efforts were focused around caring for children's needs in the emergency department. After moving into the neonatal infant arena, in the critical care unit, she diversified her professional nursing career with a move into adult Emergency medicine. Dr. Popovich returned to Capital University five years later to pursue a Master's of Science in Nursing (MSN legal focus).
While earning her Master's of Science in Nursing, Dr. Popovich worked with a group of physicians to develop and implement a model for Chest Pain Centers. She became solely responsible for training a field team at Merck on a registry called TRACS®, a data collection tool to evaluate care of the chest pain patient. The registry provided data utilized to improve the care of the cardiac patient as well as a data collection system to support a new cardiac drug. Soon thereafter, in her position as a Director of Education, Dr. Popovich developed a series of policies and procedures for free standing clinics complying with both regulation and accreditation standards.
Dr. Popovich returned to the healthcare setting and accepted a management job at Trinity Healthcare. As the Manger of the ICU of this community hospital, she was responsible for daily operations and balancing the budget for 31 full time employees. As new opportunities arose in this healthcare system, she was offered a position with Trinity School of Nursing. As a nursing instructor, she was responsible for both course content development and direct clinical supervision.
Dr. Popovich's passion to teach is evident within every role that she has held in the nursing arena. Her past as a Kaplan NCLEX instructor paved the path to a nomination for "Teacher of the year" in 2009. Her knowledge of the nursing industry led to being published in the Journal of Emergency Nursing, as well as being nationally recognized as a motivational, career building, and keynote speaker.
Congratulations to Dr. Melissa Popovich on her continuing her level of excellence in the field of nursing.
The College of Health and Public Administration
The Franklin University College of Health & Public Administration provides a high quality, relevant education that encourages lifelong learning as its students grow in their healthcare and public service careers, enhancing the quality of life in diverse communities. The College provides excellence in healthcare and public administration education by preparing professionals to improve the quality of life in diverse communities through leadership and public service.
About Franklin University
Founded in 1902,Franklin University is one of the leading and most experienced educators of adult students. Annually, more than 11,000 students attend Franklin, both at its Main Campus in downtown Columbus, Ohio, three Central Ohio locations, and at its location in Indianapolis, in addition to online. Franklin offers more than 40 undergraduate and graduate programs (with four new graduate programs) and graduates more than 1,500 students annually. The University's MBA program is offered internationally through agreements with institutions in Europe and the Middle East. Further information regarding Franklin University can be found at http://www.franklin.edu.
###