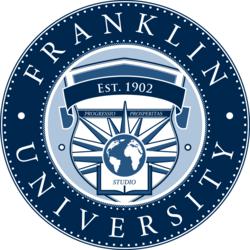 Columbus, OH (PRWEB) September 21, 2012
Franklin University, a leader in educating working adults, is pleased to announce it has been awarded the designation of Military Friendly School by G.I. Jobs, the premier magazine for military personnel transitioning into civilian life. The 2012 Military Friendly Schools list honors the top 20 percent of colleges, universities and trade schools that are doing the most to embrace America's military service members and veterans as students.
In its effort to help student veterans find the right school, G.I. Jobs incorporated a survey of student veterans for the first time. This feedback provides prospective military students with insight into the student veteran experience at a particular institution based on peer reviews from current students.
"The Military Friendly Schools list is the go-to resource for prospective student veterans searching for schools that provide the right overall experience. Nothing is more compelling than actual feedback from current student veterans," said Michael Dakduk, Executive Director for the Student Veterans of America.
The 1,518 colleges, universities and trade schools on this year's list prioritize the recruitment of students with military experience. These schools are making the grade by offering scholarships and discounts, veterans' clubs, full-time staff, military credit and other services to those who served. The 2012 list of Military Friendly Schools® was compiled through extensive research and a data driven survey of more than 8,000 schools nationwide. Methodology, criteria and weighting for the list were developed with the assistance of an Academic Advisory Board (AAB) consisting of educators from schools across the country.
Today's announcement continues Franklin's long-standing reputation of quality education and student-centered service. This announcement by G.I. Jobs is the latest designations recently received by the University, including a Columbus C.E.O. 2012 "Best of Business in Online Education" AND "Best Continuing Education Offerings" in this year's Columbus C.E.O. reader survey, and a GetEducated.com "Best Buy" for the Franklin University Master of Science Instructional Design & Performance Technology.
About G.I. Jobs
G.I. Jobs (http://www.gijobs.com) is published by Victory Media, a veteran-owned business which also publishes The Guide to Military Friendly Schools, Military Spouse and Vetrepreneur magazines and annually rates the nation's "Military Friendly Employers," "Military Spouse Friendly Employers" and "Best Corporations for Veteran-Owned Businesses.
About Franklin University
Founded in 1902, Franklin University is one of the leading and most experienced educators of adult students. Annually, more than 11,000 students attend Franklin, through its Main Campus in downtown Columbus, Ohio, three Central Ohio locations, regional locations in Beavercreek, Ohio and Indianapolis, as well as at five co-locations across Ohio, in addition to online. Franklin offers more than 40 undergraduate and graduate programs (with four new graduate programs available Winter 2013) and graduates more than 1,500 students annually. The University's MBA program is offered internationally through agreements with institutions in Europe and the Middle East. Further information regarding Franklin University can be found at http://www.franklin.edu.