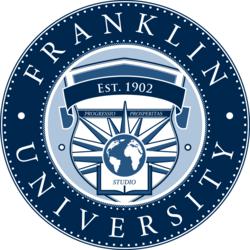 Columbus, OH (PRWEB) July 24, 2012
In response to the July 10 accreditation announcement by Mountain State University (MSU), Franklin University is pleased to announce its Completion Scholarship for MSU students admitted into a Franklin degree-seeking program.
Developed as a bridge between the current MSU tuition and fees and Franklin's tuition, the Completion Scholarship provides MSU students with a clearly defined option for continuing their education. Under the Completion Scholarship:

MSU undergraduate students will continue to pay an effective tuition rate of $320/credit through the end of academic year 2013-14.
MSU graduate students will continue to pay an effective tuition rate of $400/credit through the end of academic year 2013-14.
New student matriculation fees will be waived for both undergraduate and graduate students.
More than two dozen transfer guides have been developed to help students transferring from MSU determine how Franklin's programs might fit into their academic plans. Transfer guides have been established and are available in the following fields:
Healthcare
Business and Management
Marketing and Communications
Criminal Justice and Public Administration
Information Technology
Arts and Humanities
"During this time of uncertainty, we as educators need to find creative solutions to the challenges facing MSU students looking to complete their education." said Dr. David Decker, President of Franklin University. "By providing a clearly defined transfer option, we not only provide additional opportunities for these students, we continue our long-standing tradition of removing barriers to higher education for a larger community of students."
Providing a helping hand is not without precedence for Franklin University. In 2005, the University provided similar assistance to the victims of Hurricane Katrina, establishing the standard of meeting the needs of students who have the ambition to continue their education in combination with other responsibilities. As a nonprofit University dedicated to serving working adults, for more than a century Franklin has offered relevant and attainable educational programs. In recognition of its academic integrity, ability to deliver quality, online instruction and its student services, the University has received a number of awards, including the inaugural Exemplar of Integrity Award by the Center for Academic Integrity for promoting and maintaining the values of academic integrity.
In 2008 Franklin received the maximum period of accreditation by the Higher Learning Commission. Additionally, Franklin received specialized accreditation of numerous business degree programs by the International Assembly for Collegiate Business Education (IACBE). Further details on the Completion Scholarship, credit transfer, and residency requirements can be found at http://www.franklin.edu/msu.
About Franklin University
Founded in 1902, Franklin University is one of the leading and most experienced educators of adult students. Annually, more than 11,000 students attend Franklin, both at its Main Campus in downtown Columbus, Ohio, three Central Ohio locations, and at its location in Indianapolis, in addition to online. Franklin offers more than 30 undergraduate majors as well as five graduate programs and graduates more than 1,500 students annually. The University's MBA program is offered internationally through agreements with institutions in Europe and the Middle East. Further information regarding Franklin University can be found at http://www.franklin.edu.
###