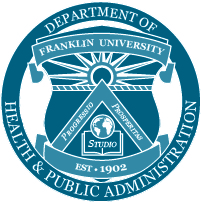 Columbus, OH (PRWEB) February 02, 2012
Franklin University, one of the leading educators of working adults, is pleased to announce it has been accepted for membership in the National Association of Schools of Public Affairs and Administration (NASPAA).
Acceptance as a member in NASPAA demonstrates Franklin University's commitment to provide excellence in healthcare and public administration education by preparing students in its College of Health & Public Administration to become professionals who improve the quality of life in diverse communities through leadership and public service.
The Franklin University College of Health & Public Administration provides a high quality, relevant education that encourages lifelong learning as students grow in their healthcare and public service careers, enhancing the quality of life in diverse communities. Undergraduate majors include: Allied Healthcare Management, Healthcare Information Systems Management, Nursing, Safety, Security & Emergency Management, Criminal Justice Administration, Healthcare Management, and Public Safety Management.
As a member of NASPAA, Franklin University joins other education institution members such as Harvard University, The University of Texas at Austin, and Princeton University.
About NASPAA
NASPAA's twofold mission is to ensure excellence in education and training for public service and to promote the ideal of public service. NASPAA serves as a national and international resource for the promotion of excellence in education and training for public service. Its institutional membership includes 275 academic programs in public administration, public policy, public affairs, and public management, both in the U.S. and internationally. NASPAA was founded in 1970 and incorporated in 1977.
About Franklin University
Founded in 1902, Franklin University is one of the leading and most experienced educators of adult students. Annually, more than 11,000 students attend Franklin, both at its Main Campus in downtown Columbus, Ohio, three Central Ohio locations, and at its newest location in Indianapolis, in addition to online. Franklin offers 30 undergraduate majors (including the new B.S. in Nursing (RN-BSN) Major) as well as five graduate programs and graduates more than 1,500 students annually through its three academic colleges. The University's MBA program is offered internationally through agreements with institutions in Europe, the Middle East, and Asia. Further information regarding Franklin University can be found at http://www.franklin.edu.
###