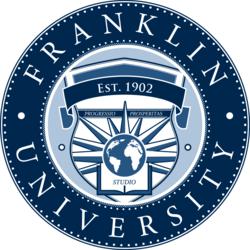 Columbus, OH (PRWEB) December 03, 2012
Franklin University, a leader in educating working adults, is pleased to announce it has been awarded Test Center Certification by the National College Testing Association (NCTA) for its Student Learning Center (SLC).
The Franklin University SLC is one of the first test centers in the U.S. and Canada to have completed the intensive certification process to confirm its practices and services adhere to the rigorous NCTA professional standards established for a university testing center.
Today's announcement places the University's Main Campus testing center as one of only 20 institutions who have earned certification distinction, out of over 600 NCTA member institutions. Certification will be extended for a period of five years and can be renewed by demonstrating continued compliance to national standards.
Congratulations are extended to Tyler Marinelli, Assistant Director, Testing and Operations, and the entire staff of the Franklin University Student Learning center for maintaining high test administration standards and for excellent service to a wide variety of students and community members in the performance of their duties.
About the National College Testing Association
The National College Testing Association, a non-profit organization dedicated to the promotion of professionalism and high quality service in the administration of testing programs, offers certification to college and university test centers that demonstrate exemplary practices. NCTA membership numbers more than 1,700 testing professionals from over 600 colleges and universities as well as 42 test companies and organizations offering test-related products and services. For more information visit: http://www.ncta-testing.org.
About Franklin University
Founded in 1902, Franklin University is one of the leading and most experienced educators of adult students. Annually, more than 11,000 students attend Franklin, through its Main Campus in downtown Columbus, Ohio, three Central Ohio locations, regional locations in Beavercreek, Ohio and Indianapolis, as well as at five co-locations across Ohio, in addition to online. Franklin offers more than 40 undergraduate and graduate programs (with four new graduate programs available Winter 2013) and graduates more than 1,500 students annually. The University's MBA program is offered internationally through agreements with institutions in Europe and the Middle East. Further information regarding Franklin University can be found at http://www.franklin.edu.
###