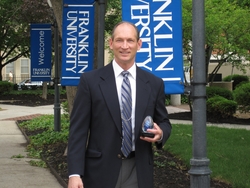 Columbus, OH (PRWEB) May 16, 2010
Franklin University, one of the leading educators of working adults, is pleased to announce Dr. Doug Ross, Program Chair of the Master of Science in Marketing and Communication (MCM) and MBA Programs at Franklin, has been named the 2010 Outstanding Marketing Educator by the Central Ohio Chapter of the American Marketing Association.
Franklin's MCM Program is the only program in Ohio and one of just a few in the nation to integrate these two disciplines. The 16-month, accelerated masters program strategically integrates the two fields for maximum impact to allow students to reach people clearly and effectively. To further advance and differentiate this unique program, Dr. Doug Ross championed efforts to modernize the curriculum to provide a level of innovation that would position marketing and communication students as thought leaders in their fields. Through Dr. Ross' contributions, the University's MCM Program was propelled to the forefront of marketing education through the infusion of persuasive techniques that utilize new media and emerging technologies to apply industry theory to application.
Revised curriculum focuses on being of service, including projects for the Arthritis Foundation and the Franklin Park Conservatory; connect-ability through the infusion of social media; humanization through webcam requirements for each student to align with industry social media and technology advancements; and sustainability through the use of eBooks to introduce a green, sustainable element to Franklin University's marketing curriculum and increase student accessibility.
In addition to being named the 2010 recipient, Dr. Ross is the only person to be given this award more than once, having been honored a record four times (1999, 2005, 2008, and 2010).
Each year, the Columbus AMA honors one individual as Marketing Educator of the Year, based upon nominations submitted from the community. The award is given to the nominee that has done the most to further marketing education in central Ohio, including teaching in a university setting, teaching outside of a university setting (seminars, etc.), research, and overall influence on marketing in the area.
Dr. Ross joined Franklin in 1996 as a full-time faculty member, teaching advertising and marketing. In 2000, he became the chair of the graduate MCM Program, and most recently was named Program Chair for the MBA. He earned a doctorate in business administration specializing in marketing, a master's degree in business administration with a concentration in marketing and a bachelor's degree in Business Administration with a concentration in accounting.
Prior to teaching at Franklin, Dr. Ross taught full or part time at Colorado State University, the University of Northern Colorado, University of Colorado (Denver Branch), New Mexico State University, and Chadron State College. Publication credits include the Journal of Business Ethics, Business Horizons, and Journal of Nonprofit and Public Sector Marketing, and presentations have been made to various regional conferences.
Dr. Ross has more than 20 years of industry experience and consulting in both large and small corporate settings, as well as in goods and services marketing.
About Franklin University
Founded in 1902, Franklin University is one of the leading and most experienced educators of adult students. Annually, more than 11,000 students attend Franklin, both at its Main Campus in downtown Columbus, Ohio, three Central Ohio locations, and at its newest location in Indianapolis, in addition to online. Franklin offers 27 undergraduate majors (including three new available Fall 2010) as well as three graduate programs and graduates more than 1,500 students annually. The University's MBA program is offered internationally through agreements with institutions in Europe, Far East, and the Middle East. Further information regarding Franklin University can be found at http://www.franklin.edu .
###