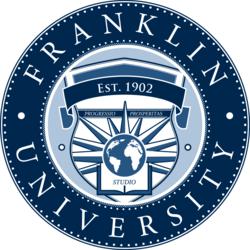 Columbus, OH (PRWEB) September 24, 2012
Celebrating the achievement of their academic goals, on Sunday, Sept. 9, nearly 600 students earned degrees during Franklin University's Summer 2012 Commencement ceremony. Keynote speaker and Honorary Doctorate of Community Leadership recipient, Lawrence L. Fisher, and graduating M.S. in Accounting student Renee Zysk addressed the graduates.
Joining the group of students at the September Commencement was Igor Lukac. While many ceremony attendees traveled to participate at Commencement, Igor made the longest trip, traveling with his wife and daughter from Slovakia. A graduating MBA student from Franklin's first cohort at the University of Economics (EUBA) in Bratislava, Slovakia, Igor wanted the opportunity to graduate in the U.S., stating that this was a once in a life opportunity. In addition to the Sept. 9 ceremony, Igor will also join his cohort members on Oct. 21 when Franklin University officials recognize the Slovakian cohort during the EUBA commencement ceremony in Slovakia.
Franklin University's Agreement with the University of Economics in Bratislava
In 2009, Franklin University announced the signing of an agreement with the University of Economics in Bratislava, expanding Franklin's role as a global institution of higher learning. The announcement signified EUBA's first English-language degree program partnership.
The University of Economics in Bratislava (EUBA), established in 1940 as the Slovak Higher School of Commerce, is one of the most important educational and scientific-research institutions in the Slovak Republic. The University provides higher education in the field of economics and business in Bachelor's, Master's and Doctoral programs to some 14,000 students. EUBA is located in Bratislava, the capital and largest city of the Slovak Republic. Bratislava is located on both banks of the Danube River, bordering Austria and Hungary.
About Franklin University
Founded in 1902, Franklin University is one of the leading and most experienced educators of adult students. Annually, more than 11,000 students attend Franklin, through its Main Campus in downtown Columbus, Ohio, three Central Ohio locations, regional locations in Beavercreek, Ohio and Indianapolis, as well as at five co-locations across Ohio, in addition to online. Franklin offers more than 40 undergraduate and graduate programs (with four new graduate programs available Winter 2013) and graduates more than 1,500 students annually. The University's MBA program is offered internationally through agreements with institutions in Europe and the Middle East. Further information regarding Franklin University can be found at http://www.franklin.edu.