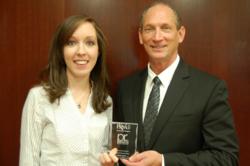 Columbus, OH (PRWEB) April 26, 2012
Franklin University, one of the leading educators of working adults, is pleased to announce Dr. Doug Ross (Department Chair, Management and Marketing, MBA Program Chair) and Christine Allen (MBA Program Coordinator) have received the Award of Excellence in the Speeches/Non-profit category for their international commencement address delivered in Wroclaw, Poland. The recognition was awarded during the 2012 Central Ohio PRSA's PRism awards ceremony, an annual event held to honor exceptional public relations activities from a diverse mix of businesses, industries and backgrounds throughout central Ohio. The speech was recognized under the Single Item Entry-Speech category and was judged based on content, creativity, results/effectiveness, quality of production, technical excellence and appropriateness for the identified target audience.
The distinguished speech was presented at the commencement ceremony held for the first graduating international MBA class from Franklin's University's program in Wroclaw, Poland. The historic event marked the inaugural graduation for the University's Poland location as well as for all of the University's global locations.
Dr. Ross and Ms. Allen developed the speech to address several key objectives: 1) to motivate and inspire the graduating students; 2) to foster international relations; and 3) to enhance the brand image of Franklin University. In addition to reaching their three objects, the writers recognized the graduation ceremony served as one of the last touch points with the students. By communicating an inspiring message that left the students with a positive conclusion to their program, Dr. Ross and Ms. Allen hoped to generate positive word of mouth for future cohorts.
About Franklin University
Founded in 1902, Franklin University is one of the leading and most experienced educators of adult students. Annually, more than 11,000 students attend Franklin, both at its Main Campus in downtown Columbus, Ohio, three Central Ohio locations, and at its newest location in Indianapolis, in addition to online. Franklin offers 30 Undergraduate majors (including the B.S. in Nursing (RN-BSN) Major) as well as five graduate programs and graduates more than 1,500 students annually. The University's MBA program is offered internationally through agreements with institutions in Europe and the Middle East. Further information regarding Franklin University can be found at http://www.franklin.edu.