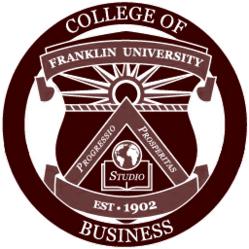 The insurance industry is expected to grow at an astounding 21% from 2010-2020.
Columbus, OH (PRWEB) June 13, 2013
Franklin University, a leading educator of working adults, is pleased to announce the addition of its new B.S.- Risk Management & Insurance program to its College of Business offerings beginning in Fall 2013.
Both large and small businesses face challenges from all sides, especially when it comes to managing loss and liability. That's why more and more organizations are investing in identifying and controlling their exposure to loss by hiring professionals who can actively evaluate and manage organizational risk.
This understanding of an organization's risk and management of exposure has become a highly specialized profession within an industry that is expected to grow at an astounding 21% from 2010-2020 (Source: Columbus State Community College's (CSCC) Center for Workforce Development study). In fact, Ohio insurance companies expect to have more job openings by the end of the decade than people ready to fill those openings. This increase in job vacancies means hundreds of careers and thousands of jobs are waiting for talented, motivated people in a state that already ranks 7th in the nation for the number of insurance jobs.
Faced with such an unprecedented talent gap, Franklin has joined the State of Ohio and industry executives in the Insuring Ohio Futures initiative to raise awareness and educate the next generation of insurance professionals. By working closely with the insurance industry, Franklin can create curriculum that provides the skills graduates need to fill the 17,000 insurance job openings* expected in Ohio by the end of the decade, as well as supports the key elements of the Insuring Ohio Futures program.
Classes are taught by real-world risk management and insurance professionals, and since the curriculum has been developed with the oversight of industry experts, graduates of Franklin's B.S.-RMI will be well-positioned to address both current and emerging industry trends.
Graduates of Franklin's B.S.-RMI program will have the foundation to pursue and obtain insurance certifications, such as the Chartered Life Underwriter (CLU), Chartered Property and Casualty Underwriter (CPCU), and Certified Risk Manager (CRM) designations and certifications.
Careers are available as a claims adjuster, examiner, investigator, insurance manager, insurance underwriter, personal finance advisor, or risk manager.
For more information visit our B.S.-RMI program page at http://www.franklin.edu/risk-management-insurance-degree-program.
About Franklin University
Founded in 1902, Franklin University is one of the leading and most experienced educators of adult students. Annually, nearly 10,000 students attend Franklin, through its Main Campus in downtown Columbus, Ohio, three Central Ohio locations, regional locations in Beavercreek, Ohio and Indianapolis, as well as at five co-locations across Ohio, in addition to online. Franklin offers more than 40 undergraduate and graduate programs (including the new Risk Management and Insurance undergraduate major available this Fall) and graduates more than 1,500 students annually. The University's MBA program is offered internationally through agreements with institutions in Europe and the Middle East. Further information regarding Franklin University can be found at http://www.franklin.edu.
###