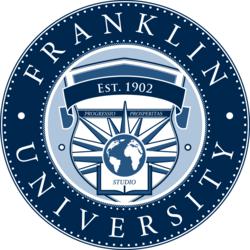 Columbus, OH (PRWEB) August 02, 2012
Franklin University is proud to announce it will serve as location host for the Aug. 8, 2012 U.S. Small Business Administration (SBA) Regulatory Fairness Forum for Small Business.
As one of the leading educators of working adults in Central Ohio, Franklin University has served as the university providing the education that leads to the opportunity for a number of students and graduates to achieve their dream of starting their own business.
During the forum, SBA Deputy National Ombudsman Yolanda Swift will meet with members of the Columbus area small business community to hear issues and comments about federal regulatory enforcement and compliance actions. Small business owners, representatives of trade associations and community and business leaders are invited to participate, comment about compliance actions and enforcement of regulations by federal agencies and learn more about the impact of federal regulations on small businesses.
The forum will be hosted at Franklin University's Ross Auditorium, Alumni Hall, 301 East, Rich Street, Columbus, OH 43215 on Wednesday, Aug. 8 from 9:30 – 11:30 a.m.
Members of the small business community, trade organizations and media are encouraged to attend. RSVPs should be made to José Méndez in the Office of the National Ombudsman at (202) 205-6178 or by email to jose.mendez(at)sba(dot)gov before the forum.
Small business owners or representatives unable to attend can contact the National Ombudsman for further assistance.
For additional information, visit the Office of the National Ombudsman's website at http://www.sba.gov/ombudsman.
About Franklin University
Founded in 1902, Franklin University is one of the leading and most experienced educators of adult students. Annually, more than 11,000 students attend Franklin, both at its Main Campus in downtown Columbus, Ohio, three Central Ohio locations, and at its location in Indianapolis, in addition to online. Franklin offers more than 30 undergraduate majors as well as five graduate programs and graduates more than 1,500 students annually. The University's MBA program is offered internationally through agreements with institutions in Europe and the Middle East. Further information regarding Franklin University can be found at http://www.franklin.edu.
###