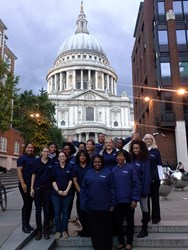 Columbus, Ohio & London, England (PRWEB) December 06, 2013
Franklin University, one of the leading educators of working adults, is proud to announce the successful launch of its inaugural study abroad program for domestically enrolled students.
Franklin already has a well-established global presence through its offering of degree programs to the students of 11 global partner institutions. This pilot study abroad initiative, however, marks the first time that Franklin has offered its graduates and students enrolled in the University's programs throughout the United States the opportunity to study in other countries.
"Globalization of the marketplace helped guide us to introduce a study abroad program that can provide valuable insight and learning for our Master of Science in Marketing & Communication (MCM) students and alumni who will function in the international marketplace," said Dr. JoAnna Williamson, Chair of Franklin's Department of Management and Marketing and MCM Program Chair.
"By offering this program we expand the opportunity for a global education currently available to students attending Franklin's international partner institutions, by providing access to a cultural and educational immersion program to both our current domestic students and alumni."
The first of its kind at Franklin, and one of the few available to adult non-traditional students and alumni, the pilot study abroad program offered travelers the opportunity to experience a tailored selection of visits tied to an overall academic theme that reflected the academic, economic, and cultural dynamics of London, England. Fully integrated with the Ross College of Business's master's curriculum, the London study abroad trip provided travelers with cultural immersion activities and business meetings with local professionals, as well a visit with a marketing faculty member from one of England's institutions of higher learning, to create a strong academic learning experience.
With an estimated 8.3 million residents, London is the most populous region, urban zone, and metropolitan area in the United Kingdom. By allowing the MCM students and alumni the opportunity to spend a week in this leading global city with strengths in commerce, the arts, education, finance, healthcare, media, and professional services, Franklin's study abroad program shed light on the important issues in a city known as one of the leading world capitals.
"Offering opportunities of this type allow our students and alumni to develop a global competence that is essential for today's professionals who are looking to create a differentiation in the marketplace," said Dr. Christopher Washington, Franklin's Provost and Senior Vice President for Academic Affairs. "Those who have the ability to take advantage of a study abroad program are more capable of dealing with bigger problems and challenges, the kind that we face today in our global society."
The inaugural group of Franklin study abroad travelers consisted of 13 MCM students and alumni participants from Central Ohio, Washington D.C., Tennessee, and Wisconsin. The diversity of the travelers mirrored the diversity of Franklin's overall student base as it relates to those who take online, face-to-face, or a hybrid mix of classes, age range, professional experience, and geographic location.
The trip was related to the MCM capstone, a 6-week independent study course. Students select a marketing communication topic of personal interest, work one-on-one with a faculty advisor to research the concept in an applied setting, and write a paper summarizing their findings and recommendations.
About Franklin
Founded in 1902, Franklin University is one of the leading and most experienced educators of adult students. Annually, nearly 10,000 students attend Franklin, through its Main Campus in downtown Columbus, Ohio, three Central Ohio locations, regional locations in Beavercreek, Ohio and Indianapolis, as well as at five co-locations across Ohio, in addition to online. Franklin offers more than 40 undergraduate and graduate programs (including the new Risk Management and Insurance undergraduate major available this Fall) and graduates more than 1,500 students annually. The University's MBA program is offered internationally through agreements with institutions in Europe and the Middle East. Further information regarding Franklin University can be found at http://www.franklin.edu.
Franklin University is accredited by The Higher Learning Commission (HLC), the International Assembly for Collegiate Business Education (IACBE), and the Commission on Collegiate Nursing Education (CCNE).