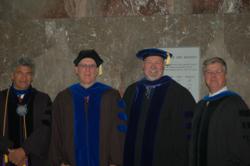 Columbus, Ohio (PRWEB) September 13, 2012
Franklin University, one of the leading educators of working adults in central Ohio, celebrated its 141st Commencement in a ceremony held Sunday, Sept. 9. Along with honoring the graduates, Franklin also recognized Dr. Timothy Reymann and Dr. Wendell Seaborne from its faculty as recipients of the distinguished Robert L. Bailey Teaching Award.
Each trimester, two faculty members are honored with the Robert L. Bailey Teaching Award. Graduating students are asked to identify one undergraduate and one graduate faculty member who had the most significant influence on them throughout their educational experience at Franklin University. The award recognizes those who have challenged students intellectually and guided them in finding the significance of the course content as it relates to them both personally and professionally.
While more than 100 graduate and undergraduate faculty members are nominated each trimester – clearly showing the magnitude of interaction between students and faculty at Franklin University – the faculty members receiving the most nominations are awarded this honor.
These awards are funded through an endowment established by State Auto Insurance Companies in recognition of Robert L. Bailey, who served State Auto for 28 years in various positions, including President, CEO, and Chairman, until his retirement in 2000. Bailey is also a past Chair and a Trustee Emeritus of Franklin University's Board of Trustees.
Congratulations to this trimester's recipients: Dr. Timothy Reymann and Dr. Wendell Seaborne.
Dr. Timothy Reymann has been a full-time faculty member at Franklin for over 11 years. He serves as Program Chair for the Business Administration, Management & Leadership and Applied Management programs. Dr. Reymann holds a doctorate in Organization and Management and also an MBA. Prior to his work at Franklin, Dr. Reymann served as President and Executive Director for major non-profit agencies in Ohio for over 18 years. Dr. Reymann's primary academic and research interests focus on the relationship between transformational leadership, organizational culture and performance. He is a lifelong learner who is highly interested in advancing the education of adult learners through the formation of learning communities.
Student Nomination:
"Dr. Reymann went beyond my expectations for a professor during my capstone course at Franklin. He truly became a mentor as he helped us to understand how the readings and assignments relate to real-world business applications. He shared his experience in the business world and helped us to see how we could pull together everything we learned at Franklin into a cohesive foundation."
Dr. Wendell Seaborne recently ended his first year as an MBA Lead Faculty at Franklin, teaching graduate coursework (along with some undergraduate classes) to our MBA students in Poland and Slovakia. His background includes 27 years in the electric utility industry, along with 13 years as a faculty member at Anderson University. Additionally, he has served many years on various not-for-profit organizations. In addition to his teaching responsibilities, he provides leadership consulting to various organizations. He believes that education is the key to progressing in one's career and finding one's own personal success in life.
Student Nomination:
"Dr. Seaborne was teaching International Business Management in my MBA program and he was one of those professors who was able to arouse interest in the subject and involve the students in his lectures. He managed to provide vivid and relevant examples from his professional career. He is doing his job just the way it should be done, without pushing or straining his muscles but rather showing those aspects of business management in a global environment, which can be most exciting for future Master's of Business Administration. He is the right man in the right place. That's it, but it is not that easy. He deserves the honor."
About Franklin University
Founded in 1902, Franklin University is one of the leading and most experienced educators of adult students. Annually, more than 11,000 students attend Franklin, both at its Main Campus in downtown Columbus, Ohio, three Central Ohio locations, and at its newest location in Indianapolis, in addition to online. Franklin offers more than 30 undergraduate majors and nine graduate programs (including four new graduate programs available winter 2013) and graduates more than 1,500 students annually. The University's MBA program is offered internationally through agreements with institutions in Europe, the Middle East, and Asia. Further information regarding Franklin University can be found at http://www.franklin.edu.