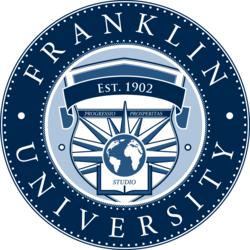 Columbus, OH (PRWEB) September 05, 2012
Franklin University, one of the leading educators of working adults, will hold its 141st Commencement Ceremony on Sunday, September 9, 2012, during which nearly 600 degree candidates will receive their diplomas at Veterans Memorial Auditorium.
Lawrence L. Fisher, a graduate of The Ohio State University (B.S., 1964) and Harvard Law School (J.D., 1967) is a retired partner in the Vorys, Sater, Seymour and Pease LLP law firm, and will provide the keynote address. Fisher is also the immediate past President & CEO of the nonprofit Columbus Downtown Development Corporation (CDDC) where he initiated the Rich Street Bridge project, oversaw renovation of the Lazarus Building, and facilitated the placing of the nascent CDDC on firm fiscal footing. Currently he serves as a volunteer executive for community nonprofit organizations.
Through his law practice, his CDDC service, and his tireless volunteer efforts, he has been instrumental in the building of Central Ohio, exemplifying risk taking and perseverance in carrying out creative ideas for the betterment of all.
Among Fisher's principal contributions are serving as co-founder of CAPA (the first American Movie Palace to be converted into a performing arts center), initiating Capitol South CURC which developed the three blocks south of the Statehouse, founder of both the Jefferson Center, a restored and updated historic district, and Thurber House. In addition, Fisher negotiated the acquisition and organized the redevelopment and reuse of this threatened historic building, and structured the development of the premiere air cargo hub in the world, which led to the development of Rickenbacker Airport.
In recognition of his outstanding community service, Fisher has been awarded the "National Outstanding Undergraduate" from Phi Kappa Tau, "Ten Outstanding Young Persons" award from Columbus Area Jaycees. "Community Service Award" from the Columbus Bar Association, the "Columbus Foundation Award" from the Columbus Foundation, the "Outstanding Person" award from the Columbus Landmarks Foundation, and the "Building the Community" Award from the March of Dimes.
In recognition of Mr. Fisher's more than 40 years of public service in Columbus, advancing downtown development and the arts, the Board of Trustees confers upon him the Honorary Doctorate of Community Leadership.
Graduating M.S. in Accounting student Renee Zysk, will also address the graduates. Renee is employed as Finance Manager at a local law firm and has been a Certified Public Accountant in good standing since 2007. Renee has over ten years' accounting experience, working in both the public and private sectors of accounting.
Renee graduated summa cum laude in 2002 from Youngstown State University with a B.S. in Business Administration, majoring in Accounting. She resides in Delaware, Ohio with her husband Mike.
About Franklin University
Founded in 1902, Franklin University is one of the leading and most experienced educators of adult students. Annually, more than 11,000 students attend Franklin, both at its Main Campus in downtown Columbus, Ohio, three Central Ohio locations, and at its newest location in Indianapolis, in addition to online. Franklin offers more than 30 undergraduate majors and nine graduate programs (including the four new graduate programs available winter 2013) and graduates more than 1,500 students annually. The University's MBA program is offered internationally through agreements with institutions in Europe, the Middle East, and Asia. Further information regarding Franklin University can be found at http://www.franklin.edu.
###