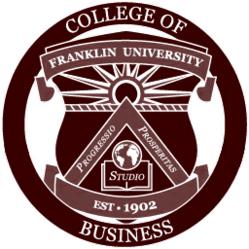 Columbus, Ohio (PRWEB) February 25, 2013
Franklin University, one of the leading educators of working adults in Central Ohio, is pleased to announce three College of Business faculty members have been named to the Statestats.com "Top 22 Business Professors in Ohio" list. The University proudly congratulates Dr. Doug Ross, Dr. Timothy Reymann, and Dr. Wendell Seaborne for their inclusion in the Top Business Professors in Ohio list.
Dr. Doug Ross serves as the Marketing & Management Department Chair as well as the MBA Program Chair at Franklin University. He brings extensive experience in the marketing field, both from a corporate and academic background. He has earned the distinction of being the only educator to receive the Columbus American Marketing Association (AMA) Marketing Professor of the Year honor a record four times (1999, 2005, 2008, 2010). Also, in 2006, he won an AMA Achievement in Marketing Award for his innovative "Faces of Franklin" campaign. In addition, Dr. Ross is the only Franklin University professor to win the Robert L. Bailey Teaching Award at both the graduate and undergraduate levels, a distinction voted on by Franklin students each term to acknowledge the professor who was most influential in their programs. Dr. Ross holds a Ph.D. in Business and Marketing from New Mexico State University, as well as a M.S. in Business and Marketing and a B.S. in Business and Accounting from Colorado State University.
Dr. Timothy Reymann is Chair of the Business Administration, Management and Applied Management Programs. He has served as a faculty member at the university for fifteen years. In addition, Dr. Reymann has served as President and Executive Director for major non-profit agencies throughout Ohio. He is an active member of the Academy of Management where he has performed extensive peer-review of scholarly papers and attended international conferences in Montreal, Chicago and San Antonio. His primary research interests are in transformational leadership and organizational culture. He focuses on the interplay between effective or non-effective leadership, an organization's culture and how these factors influence individual and organizational performance. Dr. Reymann holds a doctorate degree in Organization and Management and an MBA. He is actively involved in community presentations on leadership, organizational culture and business ethics.
Dr. Wendell Seaborne serves as Lead Faculty in the MBA Program and as faculty in the Management major. Dr. Seaborne came to Franklin with academic experience at the Falls School of Business at Anderson University and industry experience with Duke Energy-Indiana and its predecessor companies Cinergy-PSI, PSI Energy, and Public Service Indiana. In addition, he has served his community through not-for-profit service with nearly 40 different organizations. Dr. Seaborne has been recognized by the Governors in both Kentucky and Indiana for his efforts with appointments as a Kentucky Colonel and as a Distinguished Hoosier. His academic research and consulting interests lie in the field of developing leaders, implementing change, strengthening teams and strategy.
The goal of the top professors list is to highlight post-secondary educators who have been awarded recently for excellence in the classroom, on campus, and/or in the community. For more information on the Top Professors statestats.org listing visit http://onlineschoolsohio.com/top-college-professors-in-ohio/business-management.
The Franklin University College of Business
The Franklin University College of Business exists to educate future business leaders by employing effective instructional techniques to deliver world-class business education. The College of Business develops business leaders who make a difference in the world. Courses address both proven business principles and how to apply them in contemporary settings. Students will come to understand their role in today's global business arena as well as how to define themselves as a leader.
About Franklin University
Founded in 1902, Franklin University is one of the leading and most experienced educators of adult students. Annually, more than 11,000 students attend Franklin, both at its Main Campus in downtown Columbus, Ohio, three Central Ohio locations, and at its location in Indianapolis, in addition to online. Franklin offers more than 40 undergraduate and graduate programs (with four new graduate programs) and graduates more than 1,500 students annually. The University's MBA program is offered internationally through agreements with institutions in Europe and the Middle East. Further information regarding Franklin University can be found at http://www.franklin.edu.