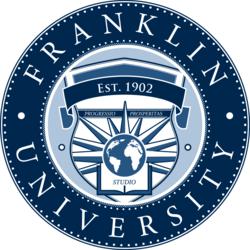 Cleveland, OH (PRWEB) July 30, 2012
Franklin University, one of the leading educators of working adults, announced the appointment of Wadzi Hoert as the Academic Admissions Advisor for its two new northeast Ohio
co-locations. Hoert most recently served as a transfer specialist at Cuyahoga Community College (Tri-C).
"The appointment of Wadzi as academic admissions advisor provides students at both Tri-C and the Lakeland Holden Center with the benefit of an advocate who will work to provide answers to the questions facing so many students interested in finding the best path to transfer their associates degree or previously earned credit toward a bachelor degree," said Bill Chan, Executive Director of Domestic Expansion at Franklin University. "Wadzi brings nearly a decade of experience working in student affairs championing the needs of today's adult learners."
Hoert's appointment continues the launch efforts for the University's two new co-locations, partnering with Cuyahoga Community College (Tri-C) through its Brunswick University Center and Lakeland through its Lakeland Community College's Holden University Center. As an academic admissions advisor, Hoert will act as a liaison between Franklin and the University's new transfer students, providing guidance on the University's Accounting and Forensic programs and student-centered assistance.
In accepting her position, Hoert said, "I have spent my career working to create a smooth transition for students into the world of higher education. I am excited to be part of Franklin University's two new co-locations and to be part of a University so dedicated to supporting adults who are balancing the responsibilities of their everyday lives as they work toward achieving their academic and career goals."
For more than seven years, Hoert has served in a variety of higher education roles at Tri-C, Cleveland State University, James Madison University, and the University of Akron. In addition to her numerous administrative responsibilities, Hoert has also spent nearly 10 years on the academic side, teaching on subjects such as student success, freshmen orientation, and other student success-focused topics.
Hoert earned her Master of Science in Higher Education Administration at the University of Akron, and her Bachelor of Arts in Broadcast News with a Minor in Criminal Justice Studies from Kent State University.
Franklin's new co-locations at Tri-C's Brunswick University Center and Lakeland's Holden University Center allows the University to provide access to a broader community of learners and better serve the educational needs of northeast Ohio residents, as well as students and alumni from our partner schools at Tri-C and Lakeland Community College. Through Franklin's transfer agreements with these partners, students can earn half to two-thirds of their bachelor degree at a community college tuition rate.
Students benefit from Franklin's acceptance of previously earned college and professional education credits, minimizing the time and money it takes to earn a degree. In fact, about three-fourths of Franklin's bachelor's degree students have transferred credits from other schools. This transfer-friendly policy, coupled with the University's convenient class schedules and regionally accredited curriculum allow today's adult students to achieve their education and career goals in balance with their personal, career, and financial responsibilities, all while staying within their own community.
About Franklin University
Founded in 1902, Franklin University is one of the leading and most experienced educators of adult students. Annually, more than 11,000 students attend Franklin at its Main Campus in downtown Columbus, Ohio, three Central Ohio locations, in Indianapolis, through five new co-locations across Ohio, and new this fall in Beavercreek, in addition to online. Franklin offers more than 30 undergraduate majors as well as five graduate programs and graduates more than 1,500 students annually. The University's MBA program is offered internationally through agreements with institutions in Europe and the Middle East. Further information regarding Franklin University can be found at http://www.franklin.edu.