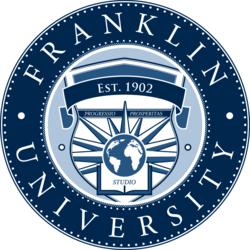 Columbus, Ohio (PRWEB) May 14, 2013
Franklin University, one of the leading educators of working adults in central Ohio, celebrated its 143rd Commencement on Sunday, May 12. Along with honoring the graduates, Franklin recognized Klaus Fricke and Dr. Joel Gardner from its faculty as recipients of the distinguished Robert L. Bailey Teaching Award.
Congratulations to this trimester's recipients: Klaus Fricke and Dr. Joel Gardner.
Klaus Fricke has been a mathematics instructor at Franklin University for 33 years. He received his MBA with concentration in Finance and Economics from Capital University in 1979 and his B.S. – Business Administration from Franklin University in 1975. Klaus has three decades of experience in telecommunications with AT&T, primarily in Outside Plant Planning and Engineering and Network Planning, where he managed projects that introduced new technology into the local network. He also has 5 years of banking experience with JPMorgan Chase. Fricke brings to the classroom not only a strong academic and professional background, but also a strong desire and a great enthusiasm for teaching and for helping every student to better themselves through a positive educational experience. Mr. Fricke is now a 2-time recipient of the Robert L. Bailey Award, with his previous honor awarded in 2009.
Student Nomination:
"Professor Fricke was the best professor I had while attending classes at Franklin. He made the material useful and interesting. He also invested in his students to ensure that everyone understood and learned the bigger picture."
Dr. Joel Gardner is currently the Chair of the Instructional Design & Performance Technology master's program at Franklin University. He has spent the last decade of his career providing teaching and training in a variety of settings. He earned both his Ph.D. and M.S. in Instructional Technology and Learning Sciences at Utah State University. He has worked as an instructional designer at Utah State University, Franklin University, and also as a consultant to many learning and training organizations. As a scholar, Dr. Gardner has published several peer-reviewed articles on the effective use of instructional strategies. He currently lives in Columbus, Ohio with his wife and daughter.
Student Nomination:
"From the time I took my first Instructional Design course with Dr. Gardner, it was apparent that he was genuinely interested in my schooling and career. He has taken time out of his schedule to provide me with additional guidance to enhance my experience at Franklin. I feel that he takes my learning personally and truly wants me to succeed. Dr. Gardner has been honest, sincere, and supportive, and I feel that he deserves this award."
About the Robert L. Bailey Teaching Award
Each trimester, two faculty members are honored with the Robert L. Bailey Teaching Award. Graduating students are asked to identify one undergraduate and one graduate faculty member who had the most significant influence on them throughout their educational experience at Franklin University. The award recognizes those who have challenged students intellectually and guided them in finding the significance of the course content as it relates to them both personally and professionally.
While more than 100 graduate and undergraduate faculty members are nominated each trimester – demonstrating the magnitude of interaction between students and faculty at Franklin University – the faculty members receiving the most nominations are awarded this honor.
These awards are funded through an endowment established by State Auto Insurance Companies in recognition of Robert L. Bailey, who served State Auto for 28 years in various positions, including President, CEO, and Chairman, until his retirement in 2000. Bailey is also a past Chair and a Trustee Emeritus of Franklin University's Board of Trustees.
About Franklin University
Founded in 1902, Franklin University is one of the leading and most experienced educators of adult students. Annually, more than 11,000 students attend Franklin, through its Main Campus in downtown Columbus, Ohio, three Central Ohio locations, regional locations in Beavercreek, Ohio and Indianapolis, as well as at five co-locations across Ohio, in addition to online. Franklin offers more than 40 undergraduate and graduate programs (with four new graduate programs now available) and graduates more than 1,500 students annually. The University's MBA program is offered internationally through agreements with institutions in Europe and the Middle East. Further information regarding Franklin University can be found at http://www.franklin.edu.