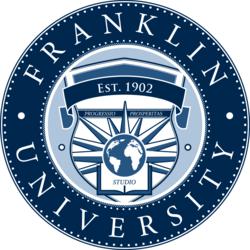 Columbus, OH (PRWEB) May 08, 2013
Mother's Day is not the only event this coming Sunday that calls for a celebration. Franklin University, one of the leading educators of working adults, will hold its 143rd Commencement Ceremony on Sunday, May 12, during which nearly 700 degree candidates will receive their diplomas at Veterans Memorial Auditorium.
Graduating students will represent the United States and 10 others countries including 10 students who will travel from Oman to join their fellow graduates at commencement. These ten students are part of the first Franklin MBA cohort to graduate from the University's partner school in Oman, Modern College of Business and Science.
Director within the Ohio Board of Regents, Barbara Nicol will make the keynote address. Nicol is part of a staff responsible for providing leadership and technical assistance to workforce education programs across Ohio. This includes the distribution of federal and state dollars and monitoring full- and part-time adult workforce education programs in 92 career-technical education planning districts as well as 40 full-service career centers. These workforce education programs utilize an annual $15 million in state funding and $3.8 million in federal funds to provide comprehensive education, customized training, and support services to over 130,000 adults each year.
Having devoted 37 years to education at all levels of learning, Nicol is a 26-year veteran of state-level leadership in career technical education. Beginning as a regional consultant, she provided leadership to workforce training programs via program development, reviews, and onsite technical assistance. She has also worked to generate business/ industry/agency partnerships, build the system of demand driven, competency-based foundations for curriculum, plan strategically for system improvement and direction, and implement, monitor, and report the components of the federal Carl D. Perkins legislation that supports career and technical education. She is also involved in numerous state-level interagency education and workforce initiatives.
Graduating M.S. in Accounting student Venkatachalam (Venky) Konar will also address the graduates. Konar works as a Solutions Development Manager for Greif Inc. A financial and management accountant by education, Konar worked in various functions in the fields of accounting, costing, and management information systems before moving into Enterprise Resource Planning (ERP) system implementation.
Prior to joining the online MSA program at Franklin, Konar completed his bachelor's degree in Commerce in 1992 from Mumbai University and is a graduate from the Institute of Cost Accountants of India. Originally from India, Konar moved to the USA in 2003 to accept a job in ERP consulting. Konar lives in Delaware, Ohio with his wife and two children.
About Franklin University
Founded in 1902, Franklin University is one of the leading and most experienced educators of adult students. Annually, more than 11,000 students attend Franklin, through its Main Campus in downtown Columbus, Ohio, three Central Ohio locations, regional locations in Beavercreek, Ohio and Indianapolis, as well as at five co-locations across Ohio, in addition to online. Franklin offers more than 40 undergraduate and graduate programs (with four new graduate programs now available) and graduates more than 1,500 students annually. The University's MBA program is offered internationally through agreements with institutions in Europe and the Middle East. Further information regarding Franklin University can be found at http://www.franklin.edu.