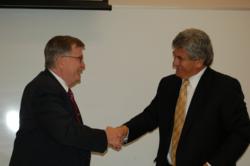 Columbus and Cambridge, OH (PRWEB) November 06, 2012
Franklin University and Zane State College hosted an event to officially mark the signing of the co-location agreement between the two institutions, offering Franklin classes at Zane State College's Cambridge location.
Through this signing, the two institutions have expanded their existing articulation agreement which provides a pathway for students to complete their bachelor degrees by combining on-campus coursework through Zane State College with online classes through Franklin to complete their degree. Through the new agreement, students still have the option to continue their education by transferring their associate degree to Franklin, but now have the opportunity to take Franklin classes in a face-to-face format on Zane State College's Cambridge campus. Face-to-face classes will be offered in Franklin's Business Administration, Management & Leadership, and Allied Healthcare Management majors.
"Our partnership with Zane State College allows graduates to transfer maximum credits toward a bachelor's degree, in either a face-to-face or online format," said Bill Chan, Executive Director of Domestic Expansion and Regional Campuses. "The signing of our co-location partnership with Zane State College allows students in southeast Ohio to benefit from an expanded physical and financial access to education."
Providing remarks during the celebration event were:

Also in attendance at the signing event were Guernsey County Commissioners Steve Allen and Steve Douglass, as well as Danielle Vandegriff, representing State Senator Troy Balderson.
Through this new co-location agreement, students benefit from Franklin's acceptance of previously earned college and professional education credits, minimizing the time and money it takes to earn a degree. This transfer-friendly policy, coupled with the University's convenient class schedules and regionally accredited curriculum allow today's adult students to achieve their education and career goals in balance with their personal, career, and financial responsibilities, all while staying within their own community.
About Zane State College
Zane State College, with two campuses located in Zanesville and Cambridge, Ohio, offers students the opportunity to earn an associate degree while participating in experienced-based learning in their chosen field. With nearly 3,000 enrolled students, Zane State College offers 30 two-year associate degree programs as well as short-term specialized training, certificate programs, and continuing and community education courses.
About Franklin University
Founded in 1902, Franklin University is one of the leading and most experienced educators of adult students. Annually, more than 11,000 students attend Franklin, both at its Main Campus in downtown Columbus, Ohio, three Central Ohio locations, and at its location in Indianapolis, in addition to online. Franklin offers more than 40 undergraduate and graduate programs (with four new graduate programs available Winter 2013) and graduates more than 1,500 students annually. The University's MBA program is offered internationally through agreements with institutions in Europe and the Middle East. Further information regarding Franklin University can be found at http://www.franklin.edu.
###