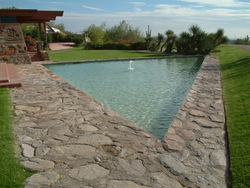 We are honored to be involved with the Wright foundation and an American icon of modern design, says Thomas Lopez, Owner of Aquavida Pools.
Scottsdale, AZ (PRWEB) December 16, 2009
Frank Lloyd Wright's Taliesin West, the world renowned architect's former winter home, studio and architectural laboratory, is preparing to undergo some major remodeling. However, it is not the actual home of the famed architect that will experience the renovations, but rather the pool, which was a special request of Wright's wife Olga, at the time the house was built. Renovations are set to begin soon and Aquavida Pools of Phoenix has been awarded the contract for the pool remodeling.
Taliesin West was designed and built by Frank Lloyd Wright in 1937 as a winter home for himself and his third wife Olga. It was at Olga's request that a pool was added to the design plans for Taliesin West and the 600-acres upon which it sits. A real estate broker at the time warned Wright that the land was virtually worthless because it had no water and tried to sway him away from the purchase. But Wright could not be deterred, believing if he just dug deep enough he would find water. And he was correct.
Wright felt comforted by the sight and sounds of water and chose a triangular-shaped reflecting pool at the front of the main building to fulfill Olga's request for a swimming pool. Olga's beloved pool juts out from the terrace, which provides sweeping views of Paradise Valley. The property also boasts additional water features, including a circular fountain, which graces the center of the courtyard. At the entrance to the visitor's center another Wright-designed metal dish fountain sits raised high on a wall.
The pool at Taliesin West has not been altered since the early 1960's. Aquavida Pools plans to remove the existing pool interior "plaster" and resurface the pool with white plaster that includes a pozzolan admixture for strength and durability. The existing waterline tile will be removed and an exact "period correct" 6"X 6" deco aqua blue tile will be added, keeping the pool true to its original design. Taliesin West, just like its sister property, Taliesin in Spring Green, Wisconsin, is listed as a National Historic Landmark, so great care has to be taken to maintain the integrity and original design, making the job just that much more challenging. We are honored to be involved with the Wright foundation and an American icon of modern design, says Thomas Lopez, Owner of Aquavida Pools.
The project is scheduled to start the second week of January and will take two weeks to complete.
About Aquavida Pools:
Aquavida Pools is a family owned Arizona pool remodeling company specializing in pool resurfacing, acrylic deck applications, water features, depth conversions, sun-shelves, equipment upgrades, consulting and design. They have been in the swimming pool business in Arizona since 1993. They are licensed, bonded and insured and are members of the Better Business Bureau and The Association of Pool & Spa Professionals and The National Plasterers Council.
# # #