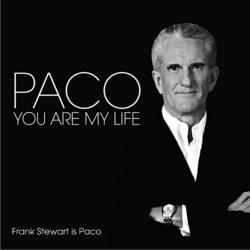 'You Are My Life' is the essence of Frank Stewart. He is all about family, caring, nurturing and giving people the opportunity to reach their full potential.
Boston, MA (PRWEB) July 10, 2012
There is no doubt that the bond of love between grandparents and grandchildren is truly a special one. For Frank "Paco" Stewart, a 65-year old retired real estate CEO and grandfather of five, there is no better way to express this love than through his passion for music. "You Are My Life" is an original song off of Stewart's third studio album, which is set for national release to iTunes and Amazon.com on Tuesday July 10, 2012 along with the premiere of his music video which features his grandchildren. A launch event and celebration of the national release of Stewart's album and music video will take place on Sunday July 8th at 1:30 pm at the fabulous "Moonshine Room" at the Club Café in Boston's fashionable Back Bay.
Since entering retirement, Stewart has jumped with abandon into a second career of singing, songwriting and entertaining. He has recorded over fifty covers and original songs, including this most recent 16-song album "You Are My Life," produced by Chris Billias at Bristol Recording Studios in Boston. Billias has worked closely with Stewart throughout the recording process, "When Frank said that he wanted to do a CD based on family, love and friendship, I thought 'what a perfect match'. 'You Are My Life' is the essence of Frank Stewart. He is all about family, caring, nurturing and giving people the opportunity to reach their full potential."
When asked about the reasons for the budding success of his newly-found music career, Stewart pointed solely to his wife of 42 years, their three children and five grandchildren, "They are my true motivators and my life inspiration. My new CD and music video are really less about me than they are about my five precious grandchildren. Molly, Colby, Addy, Christian and Evan are the true stars of the video!" The music video for "You Are My Life" was recently filmed in Gloucester, MA by internationally acclaimed Vassili Shields Productions of Boston and can be viewed on YouTube and Vimeo.
Stewart is motivated by his simple desire to help people touch their inner most emotions through the vehicle of song; to help them celebrate their life's blessings be it through laughter or even tears. He sings in the style of Josh Groban, Michael Buble, Andrea Bocelli and Neil Diamond, focusing on inspirational pop, oldies and faith-based classics. Bristol Recording Studios' senior producer Ric Poulin believes that this album is sure to touch the hearts of many, "Frank Stewart brings a high level of professionalism and attention to detail in everything he does. So of course he approaches his singing career in this fashion and as a result you have an artist with a voice, an album and a show that is right up there with the best." Stewart is currently entertaining throughout New England and has plans to bring his tour to the West Coast later this year.
"You Are My Life" available on iTunes July 10, 2012
"You Are My LIfe" on YouTube: : http://www.youtube.com/watch?v=4bFmKkZpvfk
"You Are My LIfe" on Vimeo: https://vimeo.com/44830432
Follow "Paco" on the web: http://www.facebook.com/frankpacostewart, http://www.reverbnation.com/frankpacostewart, or on http://www.myspace.com/pacothesinger.
About Frank "Paco" Stewart
Frank Stewart, known to family, friends and fans as "Paco" lives in Gloucester, MA with his wife of 42 years, Marjorie. He recently retired as the CEO of Northland Residential Corporation and for the past several years he has set his sights on pursuing his "second career" through touching people everywhere with the wonder of music. He believes that one of life's great blessings is the gift of singing and that on truly special occasions music allows people to connect "soul to soul", to feel good about themselves and all that life has to offer.
Frank's musical heroes include contemporary artists such as Josh Groban, Andrea Bocelli, Michael Crawford and Ronan Tynan. He is equally at comfort belting out an Andrew Lloyd Webber hit from Phantom of the Opera, as he is in delivering an Andrea Bocelli version of a classical Ave' Maria. He dearly loves Oldies of 1950's-70's vintage and loves to imitate Paul Anka, Neil Sadaka, The Platters, Barry Manilow and Neil Diamond to name just a few.
Paco has performed extensively in Boston's North Shore locale and throughout New England at a myriad of faith-based events, weddings and memorial services, charity fund-raisers and stage productions. While his industry peers might certainly label his real estate career and legacy as an environmental steward as being proof of his life success, he would point in turn to words by Ralph Waldo Emerson that true success is "to laugh often and love much, to appreciate beauty, to find the best in others and to give of one's self, to leave the world a bit better and to know that even one life has breathed easier because you have lived – that is to have succeeded". So listen to Paco and you may indeed find yourself breathing just a bit easier and relaxing with life.
About Bristol Recording Studios/Bristol Entertainment
Bristol Recording Studios/Bristol Entertainment is an Artist Development/Management/Music Production Company located in the Back Bay in Boston, with additional studios in Worcester and Los Angeles. Bristol has a 25 year history of helping artists acquire the skills and tools necessary to achieve their goals in the music industry. Bristol's team has developed artists for Sony, DefJam/Mercury, Warner and Universal Records and has worked with some of the most influential producers and artists in the business including : The Dropkick Murphys, New Kids On The Block, Jada, Akon, Wyclef Jean, Yo Yo Ma, RedOne (Lady Gaga, Michael Jackson, Jada), Swizz Beatz (Jay-Z, Alicia Keys), JR Rotem (Rihanna, Jason DeRulo & Sean Kingston), and more. Learn more about Bristol Entertainment at their official website, http://www.BristolStudios.com.
###